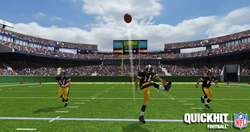 "We are excited for the launch of QUICKHIT NFL Football in time for the kick off of the 2010 season," said Hans Schroeder, Vice President of Media Strategy and Development at the NFL.
Foxboro, MA (PRWEB) September 13, 2010
Officially Licensed NFL Game Now Featured on NFL.com and Available in 3D
Quick Hit, Inc. ("QUICKHIT"), a leading developer of free social sports games, today announced the release of its highly anticipated NFL game, QUICKHIT NFL Football. The company is also unveiling the availability of a 3D version. The game offers both its classic top-down and new 3D versions, giving users the opportunity to create their own NFL team online for free and play through a series of NFL-oriented challenges. The game also will be featured on NFL.com and other distribution partners, providing millions of users with authentic NFL gaming.
"The launch of QUICKHIT NFL Football marks an important day for gamers and football fans," said Jeffrey Anderson, CEO and founder, QUICKHIT. "We're excited to kick off our first full season with an NFL-licensed product and with the 3D version this year, we've added an entirely new experience for users."
Packed with New Features
QUICKHIT NFL Football launches this week with hundreds of improvements since the company released its beta last October. New additions include: Color commentary from Super Bowl-winning head coach Bill Cowher; the Free Agent Wire where users can sign Hall of Fame stars like Barry Sanders or Warren Moon; and the Playbook Shop introducing plays like the Wildcat offense.
Most importantly, users can coach their free online NFL team through that team's division and season schedules. For example, users who choose a New Orleans Saints team would have the option to play through the NFC Divisional Challenge or jump right into the Saints 2010 NFL Schedule against the Minnesota Vikings – a repeat of last year's NFC Championship!
3D Experience Unveiled
One of the most notable new elements of the game is the 3D upgrade. Powered by Unity's sophisticated platform, this enhanced version of QUICKHIT NFL Football features dynamic 3D camera angles, advanced visual effects and a complete animation overhaul, adding to the authenticity of the game. QUICKHIT NFL Football is the first of its kind where Flash and Unity versions are compatible, making it possible for Flash users to compete head-to-head with upgraded 3D users. The 3D edition can be added as a standalone item or is free for all PRO Members, which is a new offering users can subscribe to on a monthly, six-month or annual basis. The membership provides exclusive content and benefits such as; access to 3D, a monthly currency allowance, no in-game banner ads, and more.
Authentic NFL Football for the Masses
Accessibility and affordability have been two of QUICKHIT's most important features. Today, the company continues to reach football enthusiasts with distribution of QUICKHIT NFL Football on NFL.com, and other leading online sports and gaming destinations.
"We are excited for the launch of QUICKHIT NFL Football in time for the kick off of the 2010 season," said Hans Schroeder, Vice President of Media Strategy and Development at the NFL. "We are pleased to give our fans a new and innovative way to connect to the NFL."
QUICKHIT NFL Football is available immediately on NFL.com and other online distribution sites. To become the coach of your own NFL team and compete against other players from around the world, start your dynasty today at http://www.quickhit.com.
ABOUT QUICKHIT AND QUICKHIT NFL FOOTBALL
Headquartered in Foxboro, Massachusetts, QUICKHIT® is developing free online social sports games and entertainment for a global audience. Our games fill a massive void in the sports industry by offering head-to-head competitions that combine a rich graphical experience, the accessibility of Adobe® Flash®, and the wide appeal of fantasy sports. Our first title, QUICKHIT NFL Football, is a free, authentic NFL football game that doesn't require a credit card or install. Its compelling graphics, hard-hitting action and feature-rich game play take online sports games to a new level. Play head-to-head against former NFL coaches like Bill Cowher or Brian Billick; take on NFL stars like Chris Johnson, DeMarcus Ware, and more; or sign NFL legends like Barry Sanders, Warren Moon, James Lofton, and many others. QUICKHIT NFL Football offers a persistent gaming experience that lets fans build and manage a football dynasty. Play fast, fun, free online football games, earn fantasy points with every game, sign new players, and watch your team grow. Create your team today at http://www.quickhit.com.
QUICKHIT, the QUICKHIT logo, and QUICKHIT Football are all trademarks or registered trademarks of Quick Hit, Inc. in the U.S. and/or other countries. Team names/logos/indicia are trademarks of the teams indicated. All other NFL-related trademarks are trademarks of the National Football League. Adobe and Flash are either registered trademarks or trademarks of Adobe Systems Incorporated in the U.S. and/or other countries. All other trademarks are the property of their respective owners.
# # #