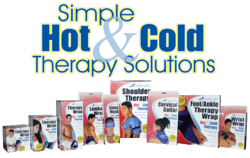 Heat and cold are believed to exert a physiological effect on your body's pain gate mechanism
Issaquah, WA (PRWEB) May 14, 2012
QuickMedical announced today the addition of ElastoGel Multi-Purpose Wraps for Cold and Hot Therapy.
"ElastoGel Hot Cold Therapy Wraps are designed to provide immediate relief using either hot or cold therapy," said Loren Timmons, Marketing Director at QuickMedical. "ElastoGel Products offer moist, therapeutic heat when warmed in a microwave and soothing cold when chilled with a freezer, and they are 100% leak proof.... even when punctured."
According to the Institute for Integrative Healthcare Studies, the use of contrasting temperatures---also known as contrast therapy---has been used as a healing tool for thousands of years. When applied in successive fashion, heat and cold are believed to exert a physiological effect on your body's pain gate mechanism, which temporarily alters pain signals traveling to and from your brain. This temporary reduction in pain is a welcome relief for those suffering long-standing complaints of the nervous and musculoskeletal systems. You can apply contrast therapy locally on your skin, using hot and cold packs, or systemically, using contrast baths or steam rooms and cold pools, known as hydrotherapy. You should talk with your primary care provider to discuss the risks, benefits and treatment options available.
ElastoGel's Multi-Purpose Therapy Wraps are designed to rehabilitate minor injuries and soothe soreness while accommodating mild physical activity and movement. ElastoGel Multi-Purpose Wraps are offered in 6 sizes to adapt to various body parts. Multi-Purpose Therapy Wraps are ideal for virtually any surface of the body. Each wrap features hook and loop closure straps to hold the wrap in place while providing an adjustable amount of compression to the necessary area.
About QuickMedical:
With a best price guarantee and over 31,000 items to choose from including professional medical equipment, disposable medical supplies, fitness and therapy products, along with a full line of home healthcare products, QuickMedical is your online medical supply store. Click here to see our current promotions.