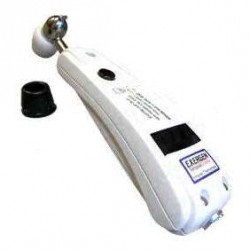 The results of the independent study further demonstrate the accuracy and validity of temporal artery thermometry
Issaquah, WA (PRWEB) September 26, 2011
According to QuickMedical, a recent study published in the Journal of Pediatric Nursing showed no statistically significant difference between Exergen temporal artery thermometry (TAT) and rectal thermometry (RT). The results, which exhibited a strong correlation between the two measurement methods, are consistent with the findings from an earlier study byAl-Mukhaizeem et al. (2004). The Bahorski et al. study further adds to the body of research showing TAT is a reliable and accurate form of thermometry.
Data were collected within a two month period by three registered nurses (RNs) in a large regional hospital in Tallahassee, Fla. Participants were selected from three various pediatric departments: ICU, outpatient and emergency center. The readings were taken with the Exergen Temporal Scanner(temporal artery thermometer) and the standard RT procedure from infants aged three to 36months who were ill or present for preoperative testing. The RNs noted the ease of use of the scanner throughout data collection.
"The results of the independent study further demonstrate the accuracy and validity of temporal artery thermometry," said Francesco Pompei, Ph.D., CEO of Exergen Corporation. "We developed the patented TemporalScanner(TM) as an alternative to rectalthermometry, to measure temperature without risking injury or causing any discomfort. This research shows the TemporalScanner can be used in place of rectal thermometers."
The study was not affiliated with Exergen and neither the authors nor the institution received compensation from the company to conduct the research. Exergen loaned two TemporalScanners for the study.
Exergen markets two models of the TemporalScanner thermometer: a professional version for doctors' offices and hospitals, and a consumer model sold in major retailers.
More than 800 million temperatures are taken each year with the TemporalScanner. Used in thousands of hospitals, clinics, and pediatricians' offices in the country as well as in millions of homes, it is also the only thermometer manufactured in the United States.
The performance of the Exergen TemporalScanner is supported by more than 40 peer-reviewed published studies covering all ages from preterm infants to geriatrics and all care areas from hospitals to homes.
Exergen Corporation is recognized worldwide as an innovator and leading manufacturer of patented infrared thermometers, scanners, sensors and controls. The company holds more than 60 U.S. patents for non-invasive temperature measurement devices. Its products are used in a wide variety of industrial and medical applications for both professionals and consumers. For additional information, visit QuickMedical.com
About QuickMedical®:
With great pricing, QuickMedical has the professional medical equipment needed by health care providers. Look for diagnostic equipment, exam tables, weighing and measuring devices, and medical basics such as stethoscopes, thermometers, and sphygmomanometers. QuickMedical also offers a wide selection of professional medical supplies; everything from patient care, to blood testing, to exam room products. At QuickMedical you'll find affordable QM Elite™ disposables for the clinic, hospital, industry or home care environment.
# # #