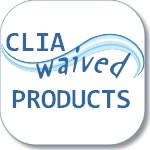 Save time and money by doing CLIA Waived tests in the home versus in the physician office or utilizing an online mail in testing laboratory."
Issaquah, WA (PRWEB) October 20, 2011
QuickMedical announced today they will now provide a large selection of CLIA waived testing products and devices. When a test is CLIA waived, it means that the test itself is so simple and accurate it is impossible to produce incorrect results in conducting them.
CLIA refers to Clinical Laboratory Improvement Amendments. These amendments were passed by the Congress back in 1988. These laws stipulate that laboratory testing procedures should ensure timeliness, accuracy and dependability irrespective of the location of the tests.
According to Scott Hanna, CEO of QuickMedical, "With the increases in medical insurance deductibles and limitations on coverage, products and devices such as glucose meters, cholesterol analyzers, pregnancy tests and others, can save the consumer time and money by doing these tests in the home versus in the physician office or utilizing an online mail in testing laboratory."
Every laboratory and home test has its own unique requirements. Certain tests can be highly complex and may require specialized equipment. If these tests satisfy certain conditions they can be exempt or waived from all regulatory procedures. In other words, these tests are cleared by FDA and can be performed at home. Most of these tests are very simple to carry out and use standardized equipment, which makes chances of an inaccuracy impossible. Such tests are referred to as a CLIA waived.
Loren Timmons, Director of Marketing at QuickMedical said, "This economy has left some people without insurance coverage, and that has helped fuel the home testing kits and online testing companies. Even many people with coverage are facing bigger deductibles and other out-of-pocket expenses."
About QuickMedical:
With great pricing, QuickMedical® has the professional medical equipment needed by health care providers. Look for diagnostic equipment, exam tables, weighing and measuring devices, and medical basics such as stethoscopes, thermometers, and sphygmomanometers. QuickMedical® also offers a wide selection of professional medical supplies; everything from patient care, to blood testing, to exam room products. At QuickMedical you'll find affordable disposables and medical supplies for the clinic, hospital, or home care environment. Sign-up here or below to receive our newsletter.
###