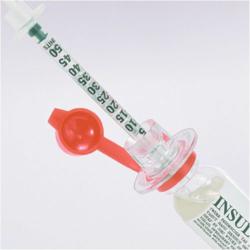 Unique products designed to help in measuring and administering insulin doses
Issaquah, WA (PRWEB) December 12, 2011
According to QuickMedical, Medicool provides unique products made to the highest quality standards. Insulin aids by Medicool are designed to help in measuring and administering insulin doses, and are Ideal for the home user in maintaining independence in their diabetes regimen.
The Medicool Insul-Guide Syringe Filling Guide is an ideal aid for people with diabetes who need help in accurately measuring their insulin, and the Medicool Count-a-Dose aid is specially designed for the diabetic who are visually impaired.
"Medicool's primary criterion for all the items they manufacture is Quality First," said Loren Timmons, Director of Marketing at QuickMedical. "Medicools products set them apart from all others in the diabetic category. We are very pleased to offer their line of high quality products to our customers."
Medicool's criteria for product design and manufacturing is to look for a unique aspect in form or product function that will set it apart from all others in a selected category; they then explore every way a particular product can be utilized in other applications and markets and will often modify a product for a specific application - thus assuring it will be practical and useful to a wide range of customers and their needs. Medicool's philosophy of "Unique Products- Guaranteed!" will continue to be their guiding inspiration now and into the future.
About QuickMedical:
With great pricing, same day shipping and a low price guarantee, QuickMedical® has the professional medical equipment used by healthcare professionals, industry and home. Look for a complete line of diagnostic equipment, exam tables, weighing, measuring devices, and medical basics such as stethoscopes, thermometers, and sphygmomanometers. QuickMedical® also offers a wide selection of professional medical supplies; everything from patient care, to blood testing, to exam room products. At QuickMedical you'll find affordable QM-Elite disposables and medical supplies for the clinic, hospital, industrial or home care environment. Click here to see all of our promotions.
###