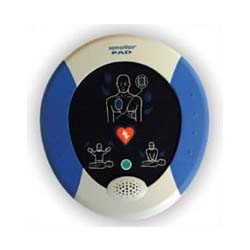 There are no complex displays or controls; the device prompts you visually and audibily
Issaquah, WA (PRWEB) December 14, 2011
According to QuickMedical, Sudden Cardiac Arrest (SCA) often strikes without warning so there is little time to react and no time to think, so it's important to have the HeartSine® samaritan® PAD 300P on hand.
"We are so pleased to have the HeartSine products to sell," said Loren Timmons, Director of Marketing at QuickMedical."HeartSine® is the pioneer of clinically advanced automated external defibrillators (AEDs) for the workplace, public access and home markets. In fact, every AED in use today can trace its roots to technology envisioned and developed by HeartSine technologists."
There are no complex displays or controls. The samaritan PAD prompts you visually and audibly with clear, calm instructions - starting with Adult Patient if equipped for adult Pad-Pak, and Child Patient if equipped with pediatric-pak. Other prompts instruct users throughout the rescue process, while reminding users to call for medical assistance. The system then guides the user through pad application to shock delivery if required.
HeartSine's innovation began in 1967, when they invented the first mobile defibrillator and changed the way the world delivered emergency care. In the years since, HeartSine has continued its passion to innovate by advancing mobile defibrillation and lifesaving technology.
By providing technologically advanced, easy-to-use, affordable defibrillators for home and public access markets, HeartSine continues to provide medical devices that save lives.
About QuickMedical:
With great pricing, same day shipping and a low price guarantee, QuickMedical® has the professional medical equipment used by healthcare professionals, industry and home. Look for a complete line of diagnostic equipment, exam tables, weighing, measuring devices, and medical basics such as stethoscopes, thermometers, and sphygmomanometers. QuickMedical® also offers a wide selection of professional medical supplies; everything from patient care, to blood testing, to exam room products. At QuickMedical you'll find affordable QM-Elite disposables and medical supplies for the clinic, hospital, industrial or home care environment. Click here to see all of our promotions.
###