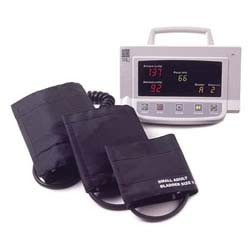 The misdiagnosis of hypertension for these patients can result in needless and possibly harmful medication
Issaquah, WA (PRWEB) December 27, 2011
According to QuickMedical, up to 25% of patients evaluated in the physician office, blood pressure measurements were higher than their typical blood pressure. White coat hypertension (WCH) can result from anxiety related to an examination by a health care professional.
The misdiagnosis of hypertension for these patients can result in needless and possibly harmful medication. White coat hypertension can be reduced (but not eliminated) with automated blood pressure measurements over 15 to 20 minutes in a quiet part of the office or clinic.
According to an article published in the Cleveland Clinic Journal of Medicine, "…the BpTRU blood pressure monitor has enjoyed greater clinical acceptance, since it can take up to five blood pressure readings at intervals of 1 to 5 minutes, and calculates the mean of all five readings, taken with the patient resting comfortably in a quiet room without a clinician present."
The development of the BpTRU device was guided by physicians who understand the significance of accurate blood pressure reading for the control of hypertension. A diagnosis of hypertension can affect a patient for the rest of their lives.
About QuickMedical:
With great pricing, QuickMedical® has the professional medical equipment needed by health care providers. Look for diagnostic equipment, exam tables, weighing and measuring devices, and medical basics such as stethoscopes, thermometers, and sphygmomanometers. QuickMedical® also offers a wide selection of professional medical supplies; everything from patient care, to blood testing, to exam room products. Find quality and affordable disposables and medical supplies for the clinic, hospital, or home care environment. Click here to see all of our promotional items.
# # #