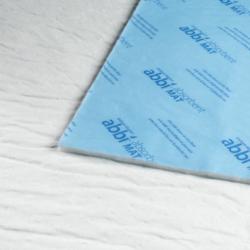 Clean-up is quick and easy, resulting in faster turn-over times for OR and surgical suites
Issaquah, WA (PRWEB) December 29, 2011
According to QuickMedical® the new Graham Abbi Spill Mat is capable of absorbing up to 19 times its weight in liquid and is more than twice as absorbent as other products on the market.
"The Graham Abbi Mats are made from a multi-layer Spunbond nonwoven material with a poly backing," said Loren Timmons, Marketing Director at QuickMedical. "This mat is ideal for procedures with excessive bodily fluid and/or requires quick and efficient fluid management. We are very excited to have this new line from Graham Professional."
The Graham Abbi Mats non-skid poly backing holds to the applied surface and provides dry, clean, slip-free floors. The mats can also be used to clean or mop up areas with excessive fluids. Clean-up is quick and easy, resulting in faster turn-over times for OR and surgical suites. Graham Disposable Abbi Mats can be cut to size, are latex-free to avoid allergic reactions and may be sterilized using ETO, gamma, and steam methods.
Graham Medical is focused on providing continuously developing solutions for the health care professional. Their products deliver convenience, comfort, and protection at an economical cost. Graham Medical Abbi Absorbent Mats are proudly made in the USA.
About QuickMedical:
With great pricing, QuickMedical® has the professional medical equipment needed by health care providers. Look for diagnostic equipment, exam tables, weighing and measuring devices, and medical basics such as stethoscopes, thermometers, and sphygmomanometers. QuickMedical® also offers a wide selection of professional medical supplies; everything from patient care, to blood testing, to exam room products. Find quality and affordable disposables and medical supplies for the clinic, hospital, or home care environment. Click here to see all of our promotional items.
# # #