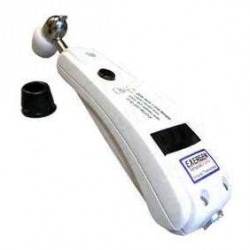 Standardizing on the Exergen Thermometer is 90 percent less expensive than any other method of thermometry
Issaquah, WA (PRWEB) December 30, 2011
QuickMedical announced that the new Exergen virtual classroom was designed specifically as a teaching aid for the healthcare professional. Through digital animation Exergen has created a new kind of training video; a Virtual Classroom and it is now available for viewing on the QuickMedical website.
"The Exergen Virtual Classroom simulates an in-service training with experts in the field of temporal artery thermometry," said Loren Timmons, Marketing Director at QuickMedical. "The entire educational video is composed of a virtual nursing staff with legitimate, realistic questions that the healthcare professional can relate to."
Currently more than 60% of the hospitals in the United States are using the Exergen Temporal Artery Thermometer, many of which have standardized on this method throughout their entire facility for all their patient populations.
Fiscally, healthcare facilities standardizing on the Exergen Thermometer is 90 percent less expensive than any other method of thermometry and provides a payback in approximately 8 months, with near zero expenditure from that point forward
About QuickMedical:
With great pricing, QuickMedical® has the professional medical equipment needed by health care providers. Look for diagnostic equipment, exam tables, weighing and measuring devices, and medical basics such as stethoscopes, thermometers, and sphygmomanometers. QuickMedical® also offers a wide selection of professional medical supplies; everything from patient care, to blood testing, to exam room products. Find quality and affordable disposables and medical supplies for the clinic, hospital, or home care environment.
# # #