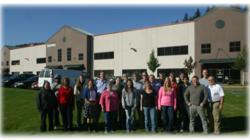 QuickMedical continues to surpass sales goals by incorporating fundamental marketing and sales strategies.
Issaquah, WA (PRWEB) January 03, 2012
QuickMedical continues to surpass sales goals by incorporating fundamental marketing and sales strategies. The sales and marketing model that took the company to where it is today also worked during the current economic slowdown to increase sales, brand, market share, and profit.
"Although the medical supply and equipment distribution industry continues to remain strong with the constant and increasing need for health-care products and services, the number of new on-line medical supply companies continues to grow. Profit margins are lower, operating costs higher, and the cost of providing top quality customer care continues to rise," said Loren Timmons, Marketing Director at QuickMedical. "I believe that through our past hard work, aggressive marketing campaigns, and by adhering to fundamental sales concepts, QuickMedical will continue to grow and be profitable throughout 2012."
QuickMedical prides itself in having a strong and knowledgeable sales force that recognizes the contribution they are making and what they need to do to improve a customer's quality of life.
QuickMedical sales representatives spend most of their business day processing internet orders, consulting with customers, hospital purchasing agents, physicians, health-care executives and focusing on increasing the visibility of QuickMedical brands, new products and services.
Scott Hanna, CEO at QuickMedical said, "When the economy began to stumble, we increased our sales and marketing efforts to our premier customers and made extra efforts to reach medical facilities, universities and government entities. We have always been proactive versus reactive to the economic environment."
About QuickMedical:
With great pricing, QuickMedical® has the professional medical equipment needed by health care providers. Look for diagnostic equipment, exam tables, weighing and measuring devices, and medical basics such as stethoscopes, thermometers, and sphygmomanometers. QuickMedical® also offers a wide selection of professional medical supplies; everything from patient care, to blood testing, to exam room products. Find quality and affordable disposables and medical supplies for the clinic, hospital, or home care environment.
###