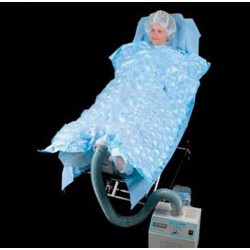 The blankets and warmers are easy to work with, dependable, and very effective. It has lowered our incidence of hypothermia in the OR.
Issaquah, WA (PRWEB) April 04, 2011
A significant number of patients suffer from hypothermia at many points in the healthcare cycle, from the ambulance trip to the hospital to the period during and following surgery. A convective warming system, such as the PDM solution, has proven to be the most efficient and effective method of actively regulating the patient's temperature
Dr. Michael Zygmunt, Anesthesiologist at Elmhurst Memorial Hospital said, "The blankets and warmers are easy to work with, dependable, and very effective. It has lowered our incidence of hypothermia in the OR."
Soft-Flex Operating Room Warming Blankets maintain a patient's ideal body temperature before surgery and after surgery in the recovery room. At these critical times, patients are more susceptible to hypothermia related complications which can dramatically impact their health and healing. The use of Operating Room Warming Blankets eliminates potentially lethal complications in patients such as surgical site infections, altered drug metabolism, impaired blood clotting, and cardiovascular issues.
"These warming blankets have been so beneficial to patient care, especially to the pediatric patients. The surgeons are routinely asking that they be placed on each patient," said Dr. Corrie Anderson, Anesthesiologist at UCLA Medical Center.
Scott Hanna, CEO at QuickMedical said, "We have had a number of requests from hospitals and out-patient surgical centers for this product. We are very excited to have the opportunity to sell the complete line of Progressive Dynamics Medical products."
About QuickMedical®
Started in 1993, QuickMedical® is a national distributor of medical supplies and equipment. With offices and warehouse located in Issaquah, WA, QuickMedical® is able to provide nearly 26,000 items to choose from with the convenience of ordering directly by phone, fax or website. Many items are shipped within 24 hours. QuickMedical® is also a distributor for a number of manufacturers who offer their products via Premier, MedAssets, Amerinet, and other Group Purchasing Organization contracts. For government (GSA) pricing, call 888-345-4858.
About Progressive Dynamics, Inc:
Progressive Dynamics, Inc. (PDI) is a privately owned corporation, established in Marshall, Michigan, in 1964. Our current markets include hospitals in the US, Canada, Europe, Taiwan and Mainland China. The LIFE-AIR system uses our own heater/blower unit, which provides heated .2 micron filtered air to our patented SOFT-FLEX® patient warming covers. We manufacture six different types of warming covers to meet various requirements for the operating and recovery rooms. These warming covers have proven to be very beneficial in preventing adverse medical problems associated with hypothermia including reduced post operative infection rates, faster recovery time, reduced mortality rates and cardiac dysfunction.
# # #