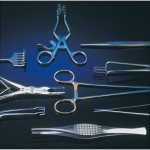 These instruments come backed with a lifetime guarantee against manufacturing defects and Sklar offers a comprehensive maintenace and repair service.
Issaquah, WA (PRWEB) February 08, 2011
Sklar has a worldwide reputation for high quality surgical instruments spanning more than 100 years. Sklar's OR quality surgical instruments incorporate the highest grades of surgical steel; offer finely detailed craftsmanship and exacting standards of manufacturing. The stainless steel construction offers non-corrosive, anti-bacterial and rust-resistant features, providing greater durability. Imported from Germany, every surgical instrument is thoroughly examined, to ensure the highest quality instruments possible. Every instrument is rigorously tested for reliability and function. No single surgical instrument leaves the Sklar warehouse until it is thoroughly inspected.
"We are very excited to be adding the Sklar line of high quality German precision surgical instruments," said Scott Hanna, CEO at QuickMedical®. "These instruments come backed with a lifetime guarantee against manufacturing defects and Sklar offers a comprehensive maintenance and repair service."
Surgical instruments facilitate a variety of procedures and operations. Specialized surgical packs contain the most common instruments needed for particular surgeries. In the United States surgical instruments are used in all hospitals, outpatient facilities, and most professional offices. Instrument users include surgeons, dentists, physicians, veterinaries, and many other health care providers. Millions of new and replacement instruments are sold each year. Many surgical instruments now have electronic or computerized components.
The forecast for the sale and manufacturing of surgical instruments worldwide continues to grow. The industries revenue in 2009 was approximately $28.3 billion USD. The industry exported $12.2 billion USD to 181 countries and the total domestic demand for the industry in 2009 was $25.0 billion USD.
About QuickMedical:
QuickMedical® is a Medical Supply Store offering a large selection of medical equipment and supplies. Established in 1993, they offer over twenty-five thousand medical products, many with lease options and free shipping. QuickMedical® has a large selection of health and fitness products, medical furniture, medical cabinets, medical casework, medical exam tables, medical lighting, x-ray equipment, and physical therapy products. QuickMedical® is also a distributor for a number of manufacturers who offer their products via Premier, MedAssets, Amerinet, and other Group Purchasing Organization contracts. For government (GSA) pricing, call 888-345-4858.
# # #