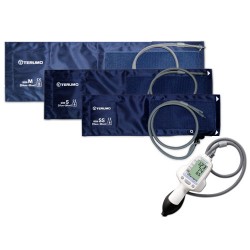 Approved by the FDA for use on patients ages 3 years old and up, making it perfect for monitoring pediatric blood pressure."
Issaquah, Wa (PRWEB) May 07, 2012
QuickMedical has added the new Terumo Elemano Blood Pressure Monitor to their already extensive list of medical supplies and equipment.
"We are pleased to add this unique device to our inventory of blood pressure monitors," said Loren Timmons, Marketing Director at QuickMedical. "The Elemano Blood Pressure Monitor is one of only a handful of Automatic Blood Pressure Monitors approved by the FDA for use on patients ages 3 years old and up, making it perfect for monitoring pediatric blood pressure."
According to the American Academy of Pediatrics, Forth Report on the Diagnosis, Evaluation and Treatment of High Blood Pressure in Children and Adolescents Pediatrics Report, "Considerable advances have been made in detection, evaluation and management of high blood pressure, or hypertension in children and adolescents….the long-term health risks for hypertensive children and adolescents can be substantial; therefore, it is important that clinical measurements be taken to reduce these risks and optimize health outcomes."
The Terumo Elemano Blood Pressure Monitor is ideal for "clinical measurements" of patient's ages 3 years old and up. The monitor features manual pressurization for greater accuracy with an automatic read-out in just 30 seconds or less removing the element of human error.
The benefits of dependable and accurate blood pressure monitoring are well understood, and are critical to reducing the risk of stroke, heart attacks and arrhythmia. Health care professionals rely on the accuracy of their blood pressure monitor; if a blood pressure monitor fails to consistently provide accurate measurements there is increased risk of misdiagnosis or altered course of medical therapy; therefore, blood pressure monitoring equipment must be regularly calibrated, which can be time-consuming, inconvenient and costly.
In drop tests, the Elemano Monitor maintained its calibration within the Pressure Transducer Accuracy standards of +/- 3mmHg, with a maximum pressure error of 1mmHg during the multi-unit, multi-drop protocol.
About QuickMedical:
With a best price guarantee and over 31,000 items to choose from including professional medical equipment, disposable medical supplies, fitness and therapy products, along with a full line of home healthcare products, QuickMedical is your online medical supply store. Click here to see our current promotions.