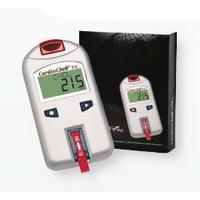 I am confident our partnership will effectively detect and help to moderate the risk factors for heart disease in the United Kingdom."
Issaquah, WA (PRWEB) October 01, 2012
According to QuickMedical, HEART UK, the United Kingdom's (cholesterol) charity, works with the public and healthcare professionals to promote healthier lifestyles. HEART UK's acceptance of CardioChek as a screening tool is a significant milestone.
The CardioChek test system provides on-site lipid panel screening tests and delivers readings for total cholesterol, HDL cholesterol, triglycerides, LDL (calculated), and glucose in less than two minutes.
Robert Huffstodt, President and CEO of Polymer Technology Systems, Inc, the U.S based compnay who manufactures the CardioChek said, "We are honored by this important acknowledgement by HEART UK. Their organization is very much respected for the work they do in cholesterol awareness and testing, and HEART UK's recognition of the CardioChek system as a useful point-of-care screening tool is significant to our organization. With HEART UK's dedication to healthcare and our proficiency in providing fast, reliable test results, I am confident our partnership will effectively detect and help to moderate the risk factors for heart disease in the United Kingdom."
About QuickMedical:
With great pricing, same day shipping and a low price guarantee, QuickMedical has the professional medical equipment used by healthcare professionals, industry and home. Look for a complete line of diagnostic equipment, exam tables, weighing, measuring devices, and medical basics such as stethoscopes, thermometers, and sphygmomanometers. QuickMedical also offers a wide selection of professional medical supplies; everything from patient care, to blood testing, to exam room products. Click here to see all of our promotions.