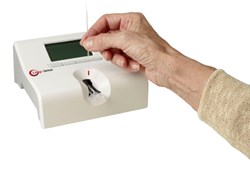 Coag-Sense PT/INR Monitoring System represents a breakthrough in point-of-care prothrombin time monitoring technology
Issaquah, WA (PRWEB) November 06, 2012
According to QuickMedical, the Coag-Sense monitoring system represents the first point-of-care PT/INR system to directly detect clot formation representing a breakthrough in PT/INR testing design simplicity and performance.
The new Coag-Sense PT/INR Monitoring System is the first point-of-care prothrombin time monitoring system to offer direct clot detection technology. By miniaturizing a direct mechanical means of detecting clot formation the Coag-Sense system offers unequaled performance and avoids the most common source of PT/INR testing errors.
Because the Coag-Sense system uses a micro mechanical means of clot detection instead of electrochemical, the system is not affected by low hemoglobin or hematocrit levels, a common source of inaccurate results in systems using current to detect clot formation.
Direct clot detection also means that there is minimal interference from other blood substances and that re-calcified plasma control strips can be run as easily as whole blood.
Direct clot detection technology also improves high INR range accuracy and delivers superb repeatability. Professionals testing with the Coag-Sense system have demonstrated %CV's of 2.5%.
The design simplicity of the Coag-Sense system also allows for a dramatic reduction in end user testing costs compared to the competition. The Coag-Sense system is also FDA cleared for patient self-testing, allowing the clinician to extend lab-like patient INR monitoring into the patient's home.
About QuickMedical:
Established in 1993, QuickMedical is a leader in the distribution and sale of medical supplies and equipment. With great pricing, same day shipping and a low price guarantee, QuickMedical has the professional medical equipment used by healthcare professionals, industry and home. Look for a complete line of diagnostic equipment, exam tables, weighing, measuring devices, and medical basics such as stethoscopes, thermometers, and sphygmomanometers. Click here to see all of our NEW PRODUCTS.