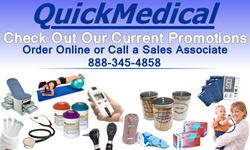 QuickMedical wants to help make your Christmas shopping easier and less expensive
Issaquah, WA (PRWEB) December 18, 2012
According to QuickMedical, now is a great time to complete that holiday shopping list, and what better place to find that unique gift and save time and money then at QuickMedical.
QuickMedical wants to help make shopping easier and less expensive by offering 10% off and free shipping of case orders on QM-Elite Nitrile Gloves; now in money saving 200/box and 2000/case packaging, and when orders are placed via the secure QuickMedical on-line ordering feature, it will save customers time and money.
"QuickMedical sells much more then medical supplies and equipment to health care professionals," said Loren Timmons, Marketing Director at QuickMedical. "We carry over 35,000 products from exercise and sport equipment to personal home use products, and we have a full-time sales staff ready to answer questions or help find that special gift."
About QuickMedical:
Established in 1993 as a veteran owned company, QuickMedical is a leader in the distribution and sale of medical supplies and equipment to the home and health care community. With great pricing, same day shipping and a low price guarantee, QuickMedical has the professional medical equipment used by healthcare professionals, industry and home .Use coupon code:QME1002 to receive a 10% off all orders of QM-Elite Nitrile Gloves. Exp.12/31/2012. Call for free samples and bulk order discounts.