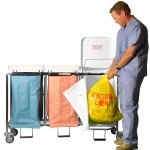 Proudly made in the USA, the R&B's Nylon Hamper Bags are guaranteed to be flame retardant for the life of the bag
Issaquah, WA (PRWEB) January 18, 2012
According to QuickMedical, the flame retardant, anti-microbial R&B Wire Hamper Bags are leak proof, made of denier urethane coated nylon and feature a draw string with lock.
"The R&B Hamper Bags offer a number of features and benefits not found with other hamper bags," said Loren Timmons, Director of Marketing at QuickMedical. "Double sewn seems, tear resistant and flame retardant, these bags suit the needs of hospitals and medical clinics and are available in four convenient styles."
Proudly made in the USA, the R&B's Nylon Hamper Bags are guaranteed to be flame retardant for the life of the bag and are made from highly durable canvas for extended use.
Rick Rawlins, CEO at R&B Wire Products, said, "I have spent my career dedicated to the mission of developing a company that provides "Top Quality" products at great prices supported by "Outstanding" customer service. I personally want to know how we are doing. Please email me directly with any comments, questions, or concerns.
R&B products are manufactured for the efficient handling of laundry, housekeeping, material-handling, janitorial and other general transport needs. R&B also provides select high volume custom manufacturing capabilities that include many diversified products – across numerous industries. All of their custom products are made to a customer's specifications with R&B's same commitment to quality & service.
"The R&B products are an investment designed to give our QuickMedical customers years of service," said Scott Hanna, CEO at QuickMedical. "R&B has a marvelous customer satisfaction rating of 99.9% and over 97% of all orders are shipped within three working days. We are very excited to add the R&B products to our QuickMedical inventory."
About QuickMedical®:
With great pricing, QuickMedical has the professional medical equipment needed by health care providers. Look for diagnostic equipment, exam tables, weighing and measuring devices, and medical basics such as stethoscopes, thermometers, and sphygmomanometers. QuickMedical also offers a wide selection of professional medical supplies; everything from patient care, to blood testing and exam room products. CLICK HERE TO SIGN UP FOR OUR NEWSLETTER.
###