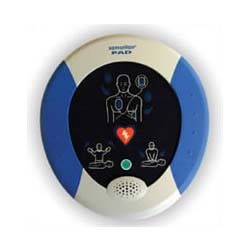 Every year, almost 7,000 high school students die from sudden cardiac arrest.
Issaquah, WA (PRWEB) March 15, 2012
According to QuickMedical, sudden Cardiac Arrest (SCA) often strikes without warning so there is little time to react and no time to think.
Every year, almost 7,000 high school students die from sudden cardiac arrest. The survival rate due to sudden cardiac arrest is at a dismal 5%-15%, and is the leading cause for more than 1 million deaths annually worldwide.
"Today, Civil Air Patrol handles 90 percent of inland search and rescue missions, with approximately 75 lives saved each year," said Major Mark Norton, CAP Squadron Commander in Everett, Washington. "The availability of an AED for use by our squadron while in training or on a mission, adds a measure of safety and the ability to intervene should one of our cadet or senior volunteers encounter a medical issue such as a cardiac arrest."
For years, only physicians were trained on the use of defibrillators; now AED technology has developed to the point where the device reads the heart rhythm, so no one – not physicians, nurses, or lay people needs to interpret the rhythm before using a defibrillator.
"As a Service Disabled Veteran-Owned Small Business, QuickMedical wanted to do our part to support the efforts and contribution made by the Civil Air Patrol," said Scott Hanna, CEO at QuickMedical. "When Major Norton contacted us and explained why it was so important to have an AED available if a cadet and/or senior officer were unable to obtain medical care due to their training or mission location, we were happy to help out."
Recently, the Oregon State Legislature approved a new bill requiring an AED in all schools. Oregon Senator Alan Bates (D-Ashland) a practicing physician said, "More and more Oregonians are getting trained in the use of AEDs. The next step to saving lives is to make sure these machines are available in all of our shopping centers, office buildings, sporting arenas and other public places."
Major Norton concluded, "While we hope never to use our AED, we value the lives of our volunteers as much as the lives of those we intend to help; this donation gives us an added tool at a critical time."
About QuickMedical and HeartSine:
With a best price guarantee and over 27,000 items to choose from including professional medical equipment, disposable medical supplies, fitness and therapy products, along with a full line of home healthcare products, QuickMedical is your online medical supply store. HeartSine's innovation began in 1967, when they invented the first mobile defibrillator and changed the way the world delivered emergency care. In the years since, HeartSine has continued its passion to innovate by advancing mobile defibrillation and lifesaving technology.
About Civil Air Patrol:
Civil Air Patrol was founded in December 1941, one week before the Japanese attack on Pearl Harbor, by more than 150,000 citizens who were concerned about the defense of America's coastline. Under the jurisdiction of the Army Air Forces, CAP pilots flew more than one-half million hours, were credited with sinking two enemy submarines and rescued hundreds of crash survivors during World War II. On July 1, 1946, President Harry Truman established CAP as a federally chartered benevolent civilian corporation, and Congress passed Public Law 557 on May 26, 1948, making CAP the auxiliary of the new U.S. Air Force. CAP was charged with three primary missions – aerospace education, cadet programs and emergency services.