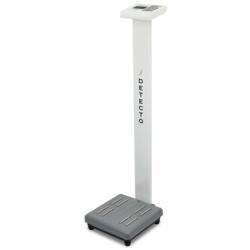 Detecto medical-grade accuracy and durability is built for long life spans in high-traffic clinical environments
Issaquah, WA (PRWEB) September 04, 2012
According to QuickMedical, the Detecto PD150/PD350 series offer medical-grade accuracy and durability built for long life spans in high-traffic clinical environments. These scales use the method of Bioelectrical Impedance Analysis (BIA) to estimate: Body Fat, Body Water, Bone Mass, Muscle Mass Percentage, and they also calculate Body Mass Index.
"The Detecto Comfort Height Body Fat Analysis Scale features heavy duty construction and offers a capacity of 550 lbs making it possible to analyze a wide range of patients and body types with a single scale," said Loren Timmons, Marketing Director at QuickMedical. "The LCD screen on this Body Fat Scale provides an easy to use interface for staff, increasing efficiency. The heavy duty construction and medical grade precision of the Detecto Comfort Height Body Fat Analysis Scale provides the services you need in a compact and efficient package."
Detecto is the largest medical scale manufacturer in the United States. Detecto was founded in 1900 and has dealers in over 110 countries around the globe.Detecto is made in the USA and has been providing medical-grade accuracy for over 110 years. DETECTO is ISO-9001:2008 certified in quality standards and has been featured on the TV shows "How It's Made" and "World's Greatest"!
About QuickMedical:
With same day shipping and a low price guarantee, QuickMedical® has the professional medical equipment used by healthcare professionals, industry and home. Look for a complete line of diagnostic equipment, exam tables, weighing, measuring devices, and medical basics such as stethoscopes, thermometers, and sphygmomanometers. For a FREE sample of our QM-Elite Nitrile Exam glove call QuickMedical at: 888-345-4858