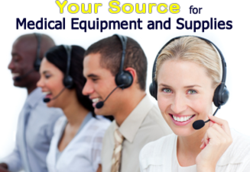 "Like all of our web pages, the Long-Term Care and Assisted Living section is educational and very easy to use
Issaquah, WA (PRWEB) February 13, 2012
According to QuickMedical, skilled nursing facilities make up around 30 percent of the total number of nursing and residential care facilities; assisted and independent living facilities make up 65 percent. The remaining establishments include residential mental health centers, community care centers, and inpatient substance abuse centers.
"At QuickMedical, we have built an extensive inventory of beds,Smart Caregiver alarms, pill dispensers, commodes and wound care products specially selected for this market," said Loren Timmons, Marketing Director at QuickMedical. "Like all of our web pages, the Long-Term Care and Assisted Living section is educational and very easy to use...and the products are all competitively priced."
Nearly two-thirds of people over age 65 will need long- term care at home, through adult day health care, assisted living facility or nursing home. And while most people think of long term care as impacting only those in senior years, 40 percent of people currently receiving long term care services are ages 18 to 64.
"With the ease of ordering medical supplies directly from the QuickMedical Long-Term and Assisted Living website, customers now have a new resource to help them reduce cost and save time," said Scott Hanna, CEO at QuickMedical.
About QuickMedical®:
Started in 1993, QuickMedical is a national distributor of medical supplies and equipment. With offices and warehouse located in Issaquah, WA, QuickMedical is able to provide nearly 27,000 medical products to choose from with the convenience of ordering directly by phone, fax or website. Many items are shipped within 24 hours. QuickMedical is also a distributor for a number of manufacturers who offer their products via Premier, MedAssets, Amerinet, and other Group Purchasing Organization contracts. For government (GSA) pricing, call 888-345-4858. Click here to see all of our promotions
###