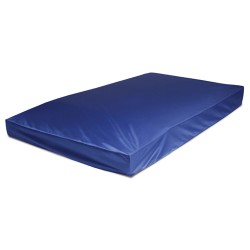 Foam mattresses to fully and comfortably support patients and to provide pressure relief to those who are confined to a bed
Issaquah, WA (PRWEB) October 18, 2012
QuickMedical now offers the full line of Graham Field Health Products Lumex and Basic American brands of Foam Mattresses.
Lumex has designed foam mattresses to fully and comfortably support patients and to provide pressure relief to those who are confined to a bed for extended periods of time. The outstanding line of Lumex pressure management products includes foam mattresses;alternating pressure / low air loss mattresses; mattress overlays; wheelchair cushions; and foam overlays, cushions, and positioning products.
Basic American's low acuity mattress is the first line of defense against pressure ulcers for "at risk" patients. The Basic American 300 Comfort Mattress features a three-layer construction with a comfort heel section and a firm side perimeter construction, with optional raised side bolsters.
Headquartered in Atlanta, GA, GF Health Products, Inc. ("Graham-Field") is one of the world's leading manufacturers and distributors of medical products in the health care industry, offering approximately 4,000 medical, rehabilitation, long-term care and homecare products.
About QuickMedical:
With great pricing, same day shipping and a low price guarantee, QuickMedical has the professional medical equipment used by healthcare professionals, industry and home. Look for a complete line of diagnostic equipment, exam tables, weighing, measuring devices, and medical basics such as stethoscopes, thermometers, and sphygmomanometers. QuickMedical also offers a wide selection of professional medical supplies; everything from patient care, to blood testing, to exam room products. Click here to see all of our promotions.