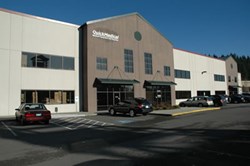 We know without you, the customer, we would not be where we are today.
Issaquah, WA (PRWEB) January 09, 2013
QuickMedical started in 1993 with the idea to create the first digital height measuring device that would deliver professional results and accuracy never seen before.
The concept and the measuring device became a reality with the invention and production of the Heightronic 235 Stadiometer. Sales of the Heightronic 235 Stadiometer eventually led to a warehouse run out of a garage, and a sales and web team run out of a tiny apartment.
The QuickMedical website was launched in order to create an easier way to sell the Heightronic Stadiometer and at a time when the internet was becoming a popular way to buy and sell products. Soon other manufacturers of medical equipment and supplies requested we sell and market their products on our website. So began QuickMedical as a medical supply and equipment distributor.
Scott Hanna, Founder and President of QuickMedical said, "We realize that it takes loyal customers coming back again and again to make a company successful. We are continually perfecting our level of service, reacting to our customers' needs and finding better ways to serve them. At QuickMedical, we understand the importance of keeping up to date with technology. We have implemented systems that run faster and more efficiently, in order to better take care of our customers' needs."
Presently QuickMedical is in the process of adding more facilities to handle the additional space needed to accommodate the nearly 40,000 products available through their website. In 2012 alone, QuickMedical added another 10,000 SKU's to both their Government Sales and Commercial Sales product offerings.
Mr. Hanna concluded, "We look forward to the future and are excited to see where this ever expanding company and market will go next. Thank you for choosing QuickMedical. We are glad to help you anyway we can; because we know without you, the customer, we would not be where we are today.
About QuickMedical:
Established in 1993 as a veteran owned company, QuickMedical is a leader in the distribution and sale of medical supplies and equipment to the health care community. With great pricing, same day shipping and a low price guarantee, QuickMedical has the professional medical equipment used by healthcare professionals, industry and home.