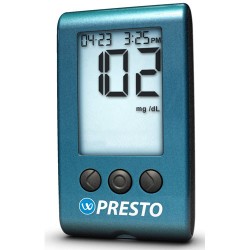 We elected to distribute the WaveSense meters over other brands because the WaveSense meters are more accurate
Issaquah, WA (PRWEB) July 02, 2012
QuickMedical has launched the complete line of WaveSense Blood Glucose Monitoring Systems for the US market. With an aggressive educational, sales and marketing campaign, QuickMedical anticipates an increase in overall sales and market share.
"We elected to distribute the WaveSense meters over other brands because the WaveSense meters are more accurate," said Loren Timmons, Marketing Director for QuickMedical. "Several blood glucose monitoring systems on the market may provide artificially high readings in certain patients due to particular test strip chemistry, but the WaveSense System uses a different chemistry and technology so it is not susceptible to these artificially high settings."
The reason why some other glucose meters on the market may give a false-elevated blood glucose reading is because they use the enzyme, glucose dehydrogenase pyrroloquinoline quinone (GDH PQQ) in their test strip chemistry.
All WaveSense-branded blood glucose meters use the enzyme, glucose oxidase (GOD) and were tested at levels of maltose that exceeded clinical relevance (120mg/dl, 6.7mmol/L) and were shown to have NO significant effect on the glucose reading at that level. In addition, the WaveSense test strips were tested at high concentrations of galactose (15mg/dl, 0.84 mmol/L) and were shown to have NO significant effect on blood glucose readings at that level.
According to one WaveSense user, " WaveSense is far and away the best glucose meter I have ever used. The meter will also let me measure glycemic variability in two different ways."
About QuickMedical:
With a best price guarantee and over 31,000 items to choose from including professional medical equipment, disposable medical supplies, fitness and therapy products, along with a full line of home healthcare products, QuickMedical is your online medical supply store. Click here for our featured NEW PRODUCTS