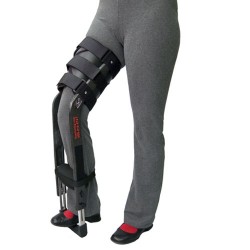 Freedom Leg Off-Loading brace allows the user to walk without applying any weight to an injured foot, ankle, or knee.
Issaquah, WA (PRWEB) May 17, 2012
According to QuickMedical, after spending 12 years designing and manufacturing some of the most innovative bicycles in the industry, FWD Mobility is now ready to introduce a new line of products that will be sold under the Forward Mobility brand name.
For example, the FWD Mobility Freedom Leg Off-Loading Brace allows the user to walk without applying any weight to an injured foot, ankle, or knee. The Off- Loading Leg Brace may be used with a cast or a boot to eliminate the need for standard crutches. The Freedom Leg Brace offloads weight from the lower leg to the upper leg, thereby maintaining upper leg strength while recovering from injury. The Freedom Leg is height adjustable in 1/4" increments for a precise fit, allowing the foot to "float" above the floor with zero weight on the leg from the knee down. The unique Off-Loading Brace design makes it ideal for those recovering from orthopedic surgery, sprains, and pressure ulcers. The Freedom Leg Off Loading Brace is safe for everyday walking as well as climbing stairs.
The FWD Mobility Innovator Folding Wheelchair is ultra lightweight and durable. A telescopic folding mechanism with locking cam allows quick and easy folding and un-folding of the Wheelchair. The Innovator Wheel Chair is only 16 inches wide when folded with the wheels and has quick-release wheels to reduce the width of the Folded Wheel Chair to 10 inches for easier transport and storage. The Innovator Wheelchair frame is constructed of lightweight aluminum.
About QuickMedical:
With a best price guarantee and over 31,000 items to choose from including professional medical equipment, disposable medical supplies, fitness and therapy products, along with a full line of home healthcare products, QuickMedical is your online medical supply store. Click here to see our current promotions.