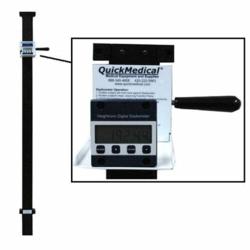 The Quick Medical Heightronic stadiometer was better than our prototype high end model
Issaquah, WA (PRWEB) August 28, 2012
According to QuickMedical, the new Heightronic Digital Stadiometer utilizes the same electronic sensor system scientists use for critical height measurements. The Heightronic stadiometer gives you a quick digital readout that's accurate to .01 inch, or .01 centimeters.
"The Quick Medical Heightronic stadiometer was better than our prototype high end model that we were testing for the market and far better than any others at the time," said William D Ross BPE, MA, MSc, PhD, DHC, Co-owner and President of Rosscraft Innovations Incorporated."We recommend the Heightronic stadiometer and refer requests for the best instrument of its type to Quick Medical."
The new Heightronic 235A Stadiometer has the same great features of the original Heightronic 235; superior accuracy and robust design, but has new design features for greater measuring range, ease of use, and maintenance-free dependability.
The digital reader headpiece glides effortlessly along the scale thanks to lubricant-free linear bearings which are insensitive to dirt, water, chemicals, heat, or impacts. Just a twist of the handle locks the headpiece where desired. The electronic sensor system assures the most accurate digital results. The redesigned headpiece, now steel, is built to last and the display has been moved to the front for easy reading.
Loren Timmons, Marketing Director at QuickMedical said, "Our sales of the new Heightronic stadiometer have been nothing short of sensational. The Heightronic stadiometer gives the Healthcare professional a choice in measuring ranges. Choose from standard range 28 to 78 inches, and lower range suitable for pediatrics of 15 to 65 inches, and a high range of 44 to 94 inch. All are compatible with 8 foot ceilings."
About QuickMedical:
With same day shipping and a low price guarantee, QuickMedical® has the professional medical equipment used by healthcare professionals, industry and home. Look for a complete line of diagnostic equipment, exam tables, weighing, measuring devices, and medical basics such as stethoscopes, thermometers, and sphygmomanometers. For a free sample of our QM-Elite Nitrile glove call QuickMedical at: 888-345-4858