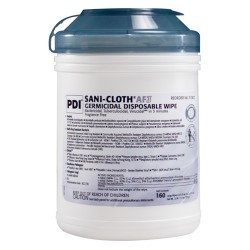 Sani-Cloth AF3 is both alcohol and fragrance free and tested effective against 44 clinically relevant microoganisms,
Issaquah, Wa (PRWEB) July 18, 2012
QuickMedical announced today the introduction of Sani-Cloth AF3 Germicidal Disposable Wipes by PDI.
PDI Sani-Cloth AF3 Disposable Wipes are effective against 44 microorganisms in 3 minutes, including Tuberculosis as well as the most prevalent multi-drug resistant organisms. These Germicidal Disposable Wipes are fragrance free; ideal for patients and healthcare professionals with sensitivities to smell.
"The complexity of today's healthcare delivery system requires the use of an environmental surface disinfectant with proven efficacy against a broad spectrum of clinically relevant microorganisms, particularly emerging MDROs. It also requires a safety profile for both healthcare users and patients, and a fast overall contact time to ensure quick turn over of shared medical equipment and high-touch surfaces," said PDI's Senior Director of Clinical Affairs, Hudson Garrett, Jr., PhD.
The Sani-Cloth® line is the number one brand of surface disinfecting wipe in healthcare. PDI offers the complete range of infection prevention products for Environmental Hygiene (Sani-Cloth®), Skin Antisepsis (Chlorascrub™), Hand Hygiene (Sani-Hands®) and Patient Care (Hygea®), along with education and support to help reduce infection rates, control associated costs and, ultimately save lives. PDI serves hospitals, long-term care facilities, laboratories, dental and physician offices throughout the United States and worldwide.
About QuickMedical:
With a best price guarantee and over 35,000 items to choose from including professional medical equipment, disposable medical supplies, fitness and therapy products, along with a full line of home healthcare products, QuickMedical is your online medical supply store. Click here to see our featured NEW PRODUCTS.