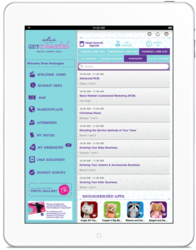 Corporate event marketers are beginning to embrace the opportunities afforded by mobile technology to make their company events more effective, productive and engaging
VANCOUVER, B.C. (PRWEB) October 02, 2012
The theme at the 2012 Hallmark Gold Crown Retail Summit in Las Vegas earlier this year was "Get Connected," and as part of the event, all 600 attendees received new Apple iPads. QuickMobile was chosen by Hallmark to develop an iPad meeting app that would serve as a replacement for printed materials, as well as a registration, communication, networking and engagement tool. According to Hallmark, "going 'paperless' and using the iPad and meeting app was not a gimmick; rather a deliberate effort to embrace how they plan to do business in the future."
CORPORATIONS EMBRACING MOBILE MEETING TECHNOLOGY
Like Hallmark, more than 200 organizations have turned to QuickMobile so far in 2012 for custom mobile meeting apps for their corporate events, including Accenture, Goodyear and Scripps. QuickMobile's mobile solutions are used to facilitate a variety of event activities, including training, networking, research and engagement among customers, partners and employees. In 2012, QuickMobile's mobile app development increased by 400 percent compared with 2011, with significant growth coming from Fortune 500 customers. QuickMobile's customers include 21 of the Fortune 100.
"With the massive adoption of mobile devices, corporate event marketers are beginning to embrace the opportunities afforded by mobile technology to make their company events more effective, productive and engaging," said Patrick Payne, CEO of QuickMobile. "Top companies continue to turn to QuickMobile, and time and again, we have proven that no one does mobile apps for events and meetings better than we do. Whether you're Hallmark training retailers how to use the latest mobile devices, Goodyear providing an electronic event scheduling component to simplify registration and reduce printing costs, or Accenture creating a secure mobile infrastructure for exchanging documentation among employees, our technology is helping to better engage companies with their internal and external audiences before, during and after their events."
FLEXIBLE MOBILE SOLUTION HELPING HALLMARK MEET ITS EVENT OBJECTIVES
In addition to the usual essential features, such as Session Lists, Maps, Exhibitors and Surveys, the Hallmark mobile application developed by QuickMobile included an iPad Discovery game; two-way scheduling integrated with the Hallmark registration system; an intuitive interface that supported adult learning principles, allowing attendees to open, follow and take notes on all workshop presentations; and a Hallmark App Store. By the end of the Hallmark event, 100 percent of the attendees had embraced the iPad and used QuickMobile's event app, ultimately helping Hallmark achieve one of its key objectives: helping retailers get comfortable with new retail technology.
IMPROVING EVENT PLANNING, ORGANIZING AND MARKETING
Payne added, "Meetings are critical to business success, providing an effective forum for education, communications, sales, marketing and increasing loyalty. Today, mobile technology is changing how meetings are planned, organized, marketed and executed, and we are committed to helping guide the industry through this evolution. Our next-generation solutions, which we plan to introduce very soon, will make it even easier for any company to leverage mobile and create a flexible, fully branded mobile app for any-size event."
ABOUT QUICKMOBILE
QuickMobile works with meeting owners and organizers to develop fully branded mobile apps for meetings that serve as catalysts for year round conversations with constituents. QuickMobile Mobile Event 2.0 solutions create always-on communications channels that allow event owners to extend their brand and interaction with customers, partners, stakeholders and employees beyond the days and locations of an event. By fully leveraging the capabilities of mobile technology, QuickMobile helps customers increase meeting engagement, extend strategic planning, improve branding, and drive sales and marketing while making communications more effective and sustainable. QuickMobile's head office is located in Vancouver, Canada. For more information, visit http://www.quickmobile.com. Follow QuickMobile on Twitter @quickmobile.
Media Contact:
Kevin Wilson
+1 513-898-1008
kevin(at)crossborderpr(dot)com