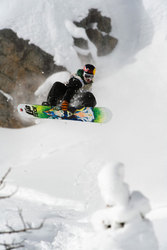 Quiksilver Natural Selection: All-Mountain Freestyle Invitational.
Jackson Hole, WY (PRWEB) February 7, 2008
Quiksilver today announces that Travis Rice is the winner of the first-annual "Quiksilver Natural Selection: All-Mountain Freestyle Invitational." The final round of competition, staged at Jackson Hole's legendary Casper Bowl run, was held in sunny bluebird skies and pristine pow. Hundreds of spectators cheered on the riders as they dropped from the top of the mountain into a field of soft, untracked snow and launched impossible airs over boulders and trees.
Rice was ecstatic after being announced the winner. He earned a check for $18k and the unqualified respect of his peers. Travis will be donating a portion of his prize money to the Jackson Hole search and rescue as well as other non-profit organizations in the community.
"Snowboarding is self expression," said Rice. "For me the true reward was seeing everyone walk away with smiles of optimism. After talking with the riders it seems as though we have only scratched the surface of a new era. It's nature that provides us with the most limitless canvas to challenge the way we ride."
The top three winners received a custom painted bison skull, created by local artist Ryan Hayworth. Mark Landvik won the best trick award and received a snowmobile donated by DC Shoes. The total purse was $75,000, and all athletes got a bit of the butter.
The event, which was actually the brainchild of Jackson Hole local Travis Rice, has been the talk of the snowboard world because of the refreshing new format, the ideal setting and vibe, and the incredible array of talent from every athlete who accepted the invitation to ride here.
"Pipe guys, free riders and legends all came together because of this event," said Brian Craighill, Quiksilver Snow Team Manager. "It was incredible to watch and extremely rewarding to be a part of this event."
Over the two competition days, more than 20 cameras and a 2,000-foot cable cam captured the event in high definition under the direction of innovative filmmaker Curtis Morgan. Journalists from around the world also gathered here to experience the event, and Fuel TV was on hand to record it for later broadcast.
"After Travis dreamed up this contest, I knew it would be a logistical nightmare; I had to figure out how we'd capture the action with the same intensity and artistry that the riders would bring," said Morgan. "Our approach wasn't just to cover an event, it was to bring the spectacle alive in a way that has never been seen before, in true cinematic proportion. In the end, we proved it's possible and produced the first HD broadcast on real terrain with real riders."
The Quiksilver Natural Selection was held over a seven-day "holding period" to ensure optimal conditions, and it needed every one of them, sneaking in the final runs on Casper Bowl just hours before the contest period would close.
It was Wolle Nyvelt who stood out from the pack on Casper Bowl with a powerful run keeping massive amounts of speed the entire way through. He started things off with a big straight air to drop into the bowl, hit a cut out jump stomping a huge backside 360 going further than any other rider who went off that same hit. Next, Wolle went for a hip jump tossing up a floaty indy then rolled down to the big hip jump on the course launching into an inverted 720 and finished up with some incredible hits through the bottom section of the bowl.
Second place at Casper Bowl was awarded to Nicolas Müeller who built a small jump at the top of the bowl. He launched a huge frontside 180 right onto a pillow, then threw a smooth backside 360 melon, got some slashers in the mix and trucked it into the big hip jump throwing a giant, super stylish method and finishing up with some smooth tricks in the pow through the bottom of the course.
"Travis's home turf was on fire," said Müeller. "Some of the best snowboarders got to really ride the mountain that brought up one of the greatest snowboarders of all time, Travis Rice!"
Travis Rice claimed third place with a technical run. He ripped straight down a steep untracked face and threw a backside 360 off a 40-foot cliff, powered through the bowl and put up a rodeo 540 off the big hip jump and buttered around the bottom section of the bowl.
In the end, the combined best scores from both Dick's Ditch and Casper Bowl determined the top three: Travis Rice, Mark Carter, and DCP respectively.
DCP slid into third by pulling a huge method dropping into the bowl, got some surf-style pow turns in tons of snow, and had a large stomped frontside 720 on the big hip jump.
"It was powdery, deep and so fun," said DCP. "I couldn't wait to hike back up and ride again."
During the awards ceremony at the Mangy Moose Saloon, which featured a special performance by GZA from the Wu Tang Clan, talk amongst the riders centered on how the event's revolutionary concept could change the sport forever.
"After shredding pow up to my neck, it's hard to imagine a full season of only half pipes and parks again," said rookie rider of the year Austin Smith. "This format has got to catch on."
"I just think we had a kick ass team - an all around brainfarm from Wink Inc. to Quiksilver to Curtis Morgan," said Circe Wallace, Executive Producer of the Quiksilver Natural Selection. "We really did what we wanted in creating a cutting-edge concept that showcases what's so wonderful about snowboarding and its characters."
The complete contest results, streaming video from both days of competition and a selection of videos and images from the weeklong event are available on the Quiksilver Natural Selection website: http://www.quiksilver.com/naturalselection.
The Quiksilver Natural Selection is a Swatch TTR World Snowboard Tour FOUR(4)STAR Event, and all of the riders who participated in the Quiksilver Natural Selection have been awarded points toward the TTR Ranking List presented by Swatch.
The Quiksilver Natural Selection is made possible by a network of partners: Jackson Hole Mountain Resort, SoBe, Hotel Terra and HEYA from Toyota.
Jackson Hole Mountain Resort: Uniquely untamed and renowned as one of the most challenging mountains in North America, Jackson Hole is a year round adventure outpost, with incredible skiing and snowboarding in the winter and amazing National Park access in the summer. "The Big One" combines incredible terrain for all levels of skiers and snowboarders, amazing on-mountain fine dining including the new Bridger Restaurant complex at the Gondola Summit and a full service resort at the base. Coming in December 2008 will be a new 100 passenger Aerial Tram that will operate from the base to the summit of Rendezvous Mountain, an amazing continuous 4,139 vertical feet, which will cement this destination resort as the top ski mountain in the US. JHMR offsets 100% of our energy with renewable energy and is third party ISO certified as a "green" company, the second of only two ski resorts, and one of the smaller companies in the US, to achieve this recognition. http://www.jacksonhole.com
SoBe: South Beach Beverage Company makes refreshing beverages marketed under the SoBe brand name. SoBe is a separate operating unit of Pepsi-Cola North America. For more information, visit the SoBe web site at http://www.sobebev.com or call the Lizard Line at 1-800-588-0548.
Hotel Terra Jackson Hole: The first in a worldwide collection of green hotels, Hotel Terra Jackson Hole adopts an evolutionary approach to hospitality, where luxury and environmental responsibility come together to create an exceptional guest experience. Located slopeside to the legendary Jackson Hole Mountain Resort and at the gateway to Grand Tetons National Park, Hotel Terra incorporates modern design with a western sensibility. For more information please visit http://www.hotelterrajacksonhole.com or call 800-801-6615.
HEYA: The Japanese word for "room," is an innovative online platform created by Toyota that allows young adults to share ideas and collaborate with one another on a wide variety of creative ideas and projects. Visit heya.toyota.com for more information and to find out "what we can do together."
About Quiksilver
Quiksilver, trailblazing guide to boardriding* culture, is committed to providing tools for uncovering, expressing and expanding your personal style. Our mission is to foster the sense of individual expression and excitement - the stoke that is the essence of boardriding. We're also here to spread the word because the only thing better than finding stoke is sharing it.
*Boardriding is about timing and style. It's youthful, active, casual, and free flowing. There is no wrong way to ride a board. The goal is simply to learn, progress, improve, and give it your own interpretation.
###