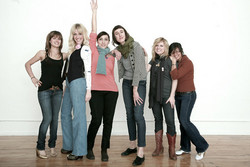 Over the last 30 years, Quiksilver has provided the tools for boardriders to do some pretty impressive things. We have always strived to be a source of support and inspiration
Silver Lake, CA (PRWEB) March 6, 2008
To celebrate the introduction of its new collection for women, Quiksilver has selected six independent and creative young women to be Visionaries in Residence at Quiksilver's siteLA, a communal work and exhibition space in the Silver Lake neighborhood of Los Angeles.
The residency program is a year-long engagement for women working in and across creative cultural fields. Like sponsored athletes, their personal passions echo the Quiksilver spirit: progressive, creative and confident. Although they have been selected for their independent projects, they share a communal workspace and together create public programs and host special events at siteLA.
Much like the professional athletes whom Quiksilver is notorious for supporting, these women will benefit from Quiksilver's vast network of resources and will have access to tangible and promotional assistance, as well as mentors and connectors who will help them pursue their passions and expose their personal projects.
"Over the last 30 years, Quiksilver has provided the tools for boardriders to do some pretty impressive things. We have always strived to be a source of support and inspiration," said Steve Tully, President of Quiksilver Brands in the Americas. "Now, as we continue to expand our vision and grow our community, we want to use our resources to awaken the spirit of surfing in everyone. We hope that by enabling these radical women and exposing their impressive endeavors, others will be inspired to follow their vision by doing what they love."
The six Visionaries in Residence are:

Beth Jones – Fashion blogger and aspiring entrepreneur opening up her own "Vintage Society" clothing shop.
Sara Anderson – Artist, performer and connector who inspires art for people of all ages, genders and economic backgrounds through collaborative drawing, video, dance and sound.
Dorothy Lee – Bicycling activist and safety advocate empowering women to safely cycle around Los Angeles.
Jesse Rodato – Architect, interior designer and humanitarian developing mobile playgrounds, skate parks and urban shelters for inner city youth.
Khrystyne Zurian – Automotive designer creating the interior and exterior of a concept vehicle that reflects the active, healthy and eco-friendly experience of independent and creative young women.
Pilar Dias – Talented singer and songwriter working on her solo project, a bilingual record that she is recording and promoting through siteLA.
Quiksilver's siteLA, which was recently built out through a collaboration with Readymade Magazine (http://www.readymade.com), Modernica (http://www.modernica.net) and Built Inc. (http://www.builtinc.com), functions as a venue for creative programming and special events stemming from the six residents' personal projects. Through exhibitions, performances and educational forums, the Visionaries in Residence will showcase their ongoing activities as artists, activists, entrepreneurs and designers. siteLA and its varied resources will also be available to community groups and educational institutions, including the Downtown Los Angeles architecture school SCI-Arc (http://www.sciarc.edu) and the progressive, youth-focused non-profit Global Inheritance (http://www.globalinheritance.org).
Although the Residents will ultimately customize the space according to their preferences and projects, some of the exciting features of the siteLA build-out include:

Bubble Lamps, Fiberglass Shell Chairs, a Tenon Table and Chairs as well as Case Study Day Beds and Storage Units provided by Modernica
A SIM2 C3XE HD 3 Chip DLP Projector and 12' screen for the ultimate cinema experience (http://www.sim2.com)
The Gibson Music Lounge featuring a full backline of Gibson guitars, bases and amps (http://www.gibson.com)
A brand new JBL EON PA system for live music performances (http://www.jblpro.com)
A "Readymade" kitchen designed by architect Andrea Keller (http://www.berrykeller.com) and siteLA Resident Jesse Rodato
The "No Modesty Desk" built by Modular Dwellings' Edgar Blazona (http://www.modulardwellings.com)
The floating stairway and mezzanine designed by John Sophio from Built Inc.
"The build-out is pretty impressive, but the siteLA initiative is more about what happens in and through the space than the physical space itself," said Greg Perlot, Quiksilver Senior Vice President of Marketing. "It's the late night conversation around the big table, the tricky recipe that's tested in the kitchen and shared with the world through siteLA.org, and all of the incredible art, music, film and ideas that these women will create, as individuals and as a group."
The six womens' journeys, as they unfold over the year, will also be shared through sitela.org, an interactive online extension of the space in Los Angeles and a place for the global community to experience this movement which enables, teaches and inspires. The website includes a virtual tour of siteLA, an events calendar and personal blogs for each woman to share her project updates, as well as general "in-sites" from her journey of discovery. The women will all be using Flip Video Camcorders from Pure Digital (http://www.theflip.com) to document their experiences, upload the footage directly to YouTube and share with the community on siteLA.org.
Quiksilver's siteLA, located at 2522 Sunset Blvd., Silver Lake, CA 90026, is open regularly from Wednesday through Saturday, 1:00pm to 6:00pm.
SiteLA is made possible by its network of creative and generous partners including: SCI-Arc, Modernica, Gibson, SIM2, JBL, Flip Video, Spin Magazine, ReadyMade Magazine and GOOD Magazine.
Visit http://www.sitela.org to share in the journey.
About Quiksilver's Women's Collection
Distant oceans and far-off places waiting to be discovered. The journey is what defines us. After four decades of taking boardriders to new destinations, Quiksilver is recognizing the women who've been with us all along. We designed Quiksilver for the journey that happens every day; up the coast, downtown, from the gig to the gallery opening. These are clothes as creative wanderlust for women who find their destinations by trying on all the options. The collection includes a full range of knits, wovens, dresses, denim, essentials and organic cotton tees. Key items for the Fall 2008 season are Organic cotton tees, menswear plaids and fine cotton twills. The collection will be available at Quiksilver retail stores, better department stores, boutiques and online at Quiksilver.com in July of 2008.
About Quiksilver
Quiksilver is a brand of Quiksilver, Inc. (NYSE:ZQK), the world's leading outdoor sports lifestyle company, which designs, produces and distributes a diversified mix of branded apparel, wintersports equipment, footwear, accessories and related products. The Company's apparel and footwear brands represent a casual lifestyle for young-minded people that connect with its boardriding culture and heritage, while its wintersports brands symbolize a long standing commitment to technical expertise and competitive success on the mountains.
Media Contacts:
Ali Paul
Paul & Williams
ali @ paulandwilliams.com
Joshua Katz
Quiksilver
joshua.katz @ quiksilver.com
###