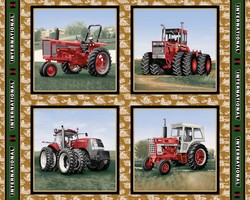 Quilters are encouraged to be imaginative and use their creative instincts.
Racine, WI (PRWEB) October 1, 2009
Case IH Agricultural Equipment invites quilters to share their International Harvester spirit by entering the first annual "Red Tractor" quilting contest. The contest, sponsored by Case IH, offers a cash award of $1,000 for first prize.
Both "Red Tractors" and quilts play an important part in the history and heritage of rural America. Today's Case IH agricultural equipment brings together the innovation and tradition of a number of great agricultural equipment manufacturers, including Case, International Harvester, Farmall and Steiger. Similarly, quilting has a long heritage - from a craft practiced through necessity to a hobby that pays homage to a great rural tradition.
"Quilting is a skill and art form that has passed down through the generations in rural communities, and these same generations continue to use and restore 'Red Tractors,'" explains Sarah Pickett, Case IH licensing and merchandising manager. "Our contest is a way for quilters to celebrate ownership of these tractors and their own rural heritage through the symbolic incorporation of them into a quilt."
Contest requirements are simple. Construction of the quilt is open to the quilter's technique of choice - hand sewing, machine quilting or a combination. Quilt fronts need to use at least 50 percent "red tractor" patterned fabrics from CNH America LLC licensed vendors, V.I.P. Cranston and Print Concepts. All designs must be original and not previously entered in other competitions. Minimum quilt size is 50 x 60 inches with a maximum size of 84 x 96 inches.
Quilts will be judged during the 21st annual Red Power Roundup gathering of the International Harvester (IH) Collectors Club, June 24-26, 2010, in LaPorte, Ind. Participants must be present to win. There is a $10 entry fee and entries are limited to the first 150 entries that are received.
"Judging will be based on creativity, originality, workmanship and the quilt's visual impact," explains Pickett. "Quilters are encouraged to be imaginative and use their creative instincts."
All entry fees will be donated by Case IH to the Red Power Roundup event host - Northern Indiana Chapter No. 33 of the IH Collectors Club. The IH Club is a worldwide collector's network for the preservation of history of the International Harvester Co. International Harvester joined with Case in 1985 to form the Case IH agriculture equipment brand with headquarters in Racine, Wis.
A complete set of 2009 Red Tractor Quilt Contest rules is available at http://www.caseih.com.
To find "red tractor" patterned fabrics close to home, contact your local Case IH dealer. You can also call the Cranston customer service line at 800-876-2756 or Print Concepts at 800-511-1595. View all the designs and find project ideas to inspire your quilt design at http://www.CranstonVillage.com or at http://www.printconceptsfabrics.com/home.asp.
Case IH is a global leader in agricultural equipment, committed to collaborating with its customers to develop the most powerful, productive, reliable equipment - for those who demand more. With headquarters in the United States, Case IH has a network of dealers and distributors that operates in over 160 countries. Case IH provides agricultural equipment systems, flexible financial service offerings and parts and service support for professional farmers and commercial operators through a dedicated network of professional dealers and distributors. Productivity enhancing products include tractors; combines and harvesters; hay and forage equipment; tillage tools; planting and seeding systems; sprayers and applicators; site-specific farming tools and utility vehicles.
###