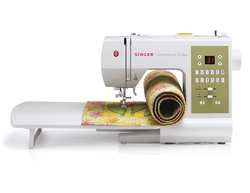 SINGER remains the sewing machine brand of choice in almost every country of the world because it delivers reliable sewing products people want
HAMILTON, Bermuda (PRWEB) September 10, 2008
Latest industry research reveals the total value of the U.S. quilting industry grew by 45% in recent years. During this period of time, the U.S. quilting market experienced a 30% increase in the number of quilters, compared to a 7.8% increase between 2000 and 2003. (Source: Quilting in America 2006, Presented by CK Media Publications and International Quilt Market & Festival, division of Quilts, Inc.)
"Quilting today is not what it was like a few years ago," said Don Fletcher, CEO of SVP Worldwide. "Quilting projects previously requiring hundreds of hours of painstaking hand-sewn intricate stitches can now be created effortlessly. Quilters can experience the same sense of joy and accomplishment in a fraction of the time which has resulted in an increasing number of beginning quilters."
"SINGER has introduced its first quilting sewing machine to make quilting more accessible and affordable," says Fletcher. "Building upon its trusted sewing heritage, SINGER is now the gateway to the world of quilting."
Quilting techniques that can easily be performed on the CONFIDENCE QUILTER machine can create a multitude of unique and beautiful projects such as table runners, handbags, wall hangings, quilts and blankets. Whether it is a simple hand quilt stitch design or an elaborate pattern requiring free-motion capability, the CONFIDENCE QUILTER machine provides versatility for fashion, home décor and crafting projects with its quilting, appliqué, decorative and stretch stitches.
"SINGER remains the sewing machine brand of choice in almost every country of the world because it delivers reliable sewing products people want," said Brad Hunsaker, Global Vice President of Sales and Marketing for SVP Worldwide. "The new SINGER CONFIDENCE QUILTER machine complements our strong product portfolio and will simplify quilting for beginning and intermediate quilters."
The included essential quilting accessories package makes the CONFIDENCE QUILTER machine affordable for people to enter the hobby. Intermediate quilters who are looking to upgrade their current sewing machine for increased ease and capability of a computerized machine will appreciate one-step functions, large knobs, push button controls and automatic capabilities that streamline the quilting and sewing process. Additional features include:
Extension Table. The extra-large extension table that easily connects to the machine provides the needed space quilters require. Drop & Sew™ Bobbin System. With a specially designed thread track and new needle plate, there is no longer a need to manually raise the bobbin thread. Sewers can now just drop in the bobbin, thread the track, and begin to sew. In addition, the One Touch Needle Threader will even pull the thread through the eye of the needle. Two StayBright™ LED lights come standard, addressing one of the biggest concerns of most sewers—brighter lighting that won't burn out. Automatic Needle Up/Down enables quilters to easily turn corners when they appliqué and quilt. The 98 built-in stitches are complemented with free accessories including four quilting presser feet: Even Feed Foot, Darning/Embroidery Foot, 1/4" Foot, and the Open Toe Foot. The new SINGER CONFIDENCE QUILTER sewing machine can be viewed at http://www.Singer.com or consumers can visit their local SINGER retailer to try the new machine.
About SVP Worldwide®
SVP Worldwide, a global company headquartered in Hamilton, Bermuda and doing business through its affiliated companies in over 190 countries, specializes in the design, manufacture and sale of high quality household sewing machines and related products under the SINGER, HUSQVARNA VIKING, and PFAFF brand names. For more information about the Company and the company's brands, view the following websites: http://www.svpworldwide.com, http://www.singer.com, http://www.husqvarnaviking.com, http://www.pfaff.com, http://www.sewingideas.com, and http://www.myembroideries.com.
About Singer:
Founded in 1851, Singer is one of the world's leading sellers of consumer and artisan sewing machines. To date, Singer maintains a strong international presence, with manufacturing facilities in Brazil and China, 10 overseas marketing operations and a network of third-party distributors selling product in more than 190 countries. The company has a long history of innovation in the sewing machine industry, having produced, among other breakthroughs, the world's first portable machine in 1921 and its first computer-controlled machine in 1978.
MULTIMEDIA GALLERY http://www.businesswire.com/cgi-bin/mmg.cgi?eid=5775237