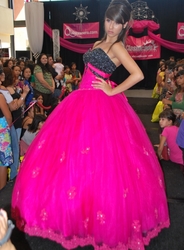 Now we are servicing about two events per month, which is not bad
Los Angeles (Vocus) October 8, 2010
With the economy on track towards recovery, more consumers have the means and will to spend, as was demonstrated Sunday by the almost 2,000 quinceañeras and their families who attended El Clasificado's ''Quinceanera.com Expo and Fashion Show'' held at the Hilton Hotel in Ontario, California. The free event soon reached a capacity crowd as the highly-anticipated fashion show by Elegant Touch, Roxy's Bridal, and David's Bridal was set to begin.
A variety of raffles gave young Quinceañeras the opportunity to win a designer gown valued at $2,500 created by famous Mexican fashion designer Mitzy, two more quinceañera dresses, an iPad and several other desirable Quince gifts. Over 50 merchants hustled to attend to the questions of the young girls and their parents wanting to see every possible service and product desired and needed for a fabulous Quince Años celebration including: special Quince cakes, flowers and decorations, tuxes for Chambelanes, tiaras, birria and parrillada catering services, Dj's and even limousines.
The spirit of the financial recovery was manifested by these exhibitors, who reaffirmed that the economy is improving. "Now we are servicing about two events per month, which is not bad," says Manuel Sotto, owner of a DJ company that caters to parties and all types of events. "We are doing somewhat better, about 30 percent compared to last year."
Even more optimistic was Royal Dining, a company dedicated to providing catering services to quinceañeras and specializing in school events. According to Business Development Manager Eddie Condes, "we have seen a steady growth in the last five years," thanks to the high demand for catering services and cakes from schools along with other events such as barbeques and taquizas. "We have found our own target audience and we are capitalizing on the market based on very low prices, which give us a margin-sized advantage but allow us to maintain a steady growth," asserts Condes.
This optimism was also demonstrated by Antonia Puerta, who took her fourteen year-old daughter to the event in order to plan her quinceañera for February next year. "Things are somewhat better now and we are thinking about planning something a bit more lavish," she said with laughter. "It was something we always wanted to do, but now we feel more comfortable spending money."
El Clasificado, owner of Quinceanera.com and organizer of the expo, took the opportunity to announce the launching of ServiciosdeFiestas.com, a new e-commerce site providing party goods and services for quinceañeras and all traditional Hispanic celebrations, including baptisms, weddings, and birthday parties.
For the quinceañera who wants to organize and plan her event with the help of her friends on Facebook, a demo of "Mi Quince Planner" a new Facebook App was given. The App, developed by El Clasificado, will soon enable businesses to provide friendly offers and connection channels to prospective Quinceañeras.
Major event sponsors included Cover Girl, David's Bridal, Seventeen, and Aquarium of the Pacific.
Quinceanera.com Expo is presented by El Clasificado, a Hispanic marketing solutions company that connects buyers and sellers in the community through its niche-oriented publications, websites and brands reaching over 1.5 million Latinos in print weekly and 5 million monthly online pageviews.
For media inquiries or for additional information, please call Alicia García at 1-800-450-5852 or agarcia(at)elclasificado(dot)com.
###