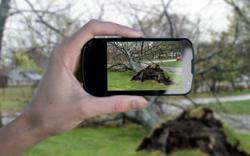 The app helps to reduce paper usage and puts more 'eyes on the street' while streamling the complaints reporting process.
Quincy, WA (PRWEB) December 04, 2012
The City of Quincy, WA has established itself as a municipal leader in innovation becoming the first community to use the new InTouch Mobile app developed by iCompass Technologies.
The people of Quincy will be able to report complaints on their smartphone with that concern streamlined instantly to City Hall. Futhermore, constituents are able to follow the City's response on the app and will receive an email notification once the issue is resolved.
"The City of Quincy is always looking for ways to further open up the lines of communication," says Recreation Director Russ Harrington, "InTouch Mobile allows the public to report anything from potholes, to illegal dumping, to hazardous tree limbs in a park, along with a picture and full description. The end result is a healthier community and a more efficient government."
InTouch Mobile is free for the public to use and is compatible with iPhone and Android Devices. iCompass has designed the app, so it can be tailored to fit the specific needs of any municipality.
"Our mandate is to work with our civic partners to build stronger communities. With InTouch Mobile Quincy will have access to City Hall 24/7," says iCompass President & CEO Todd Stone. "The app also helps to reduce paper usage and puts more 'eyes on the street' while streamlining the complaints reporting process. We applaud the City of Quincy for being a leader in government transparency and citizen engagement."
For more Information: http://www.icompasstech.com/intouch-mobile
About iCompass Technologies
iCompass provides CivicWeb, the leading cloud-based meeting and records management solution for city clerks who are swamped with never-ending tasks related to managing their meeting process, records administration and tracking responsibilities.
CivicWeb automates meeting and records management workflow in one system, and facilitates open governance through comprehensive and seamless access to information. It provides a real-time pulse and complete visibility into what's going on across the entire organization, and enables the shifting of resources to other pressing priorities.
Unlike competitors, CivicWeb is a true cloud-based service with an all-inclusive pricing model. It is implemented in less than 20 hours with no IT involvement, no consultant interference, and no costly RFP process.