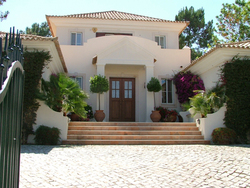 Awareness of scam issues has significantly increased lately with people reading stories that have featured in the national press
(PRWeb UK) September 13, 2010
British holidaymakers are being warned to be on their guard when booking their summer villa holiday in 2011 after Police saw a marked rise in the number of allegations of fraudulent villa bookings during 2010.
The rise in direct booking websites has seen a boom in owners advertising their own properties, and as a result holiday makers are seeing a similar rise in villa holiday nightmares.
With the huge amount of concrete gone into building not only Quinta do Lago villas but all villas in Portugal in the last 10 years, competition is fierce for holiday rental income and owners have decided to take matters into their own hands to get bookings.
However many perils of booking villas direct exist with many sites only providing a venue for transactions between travellers and members. The sites do not enter into any official contract concerning any property listing.
Booking holiday homes and Quinta do Lago villas online is becoming increasingly popular among Britons. An estimated two million families own a second home abroad and many use villa-letting websites to rent them out. The problem for travelers is that most of these websites are essentially just listing pages for adverts. They are not travel agents and so have no legal obligation to refund money to the victims of fraud.
As a result, the quality, safety or accuracy of listing, the ability of members to rent holiday property or the ability of travellers to pay for holiday rental properties are solely the responsibility of the users.
A large number of devastated families have been left stranded in foreign countries and left thousands of pounds out of pocket after falling to conmen advertising fake villas.
Police believe thousands of holiday makers might have been caught up in what is believed to be the UK's biggest holiday scam. In total, travellers have lost upwards of £250,000.
Michael Reilly, Marketing Manager for villa holiday specialists Select Resorts, said "Awareness of scam issues has significantly increased lately with people reading stories that have featured in the national press".
He added: "Both agents and consumers are becoming more careful every year, with many wanting assurance that the villa they are booking is genuine.
Select Resorts prides itself in providing the "personal touch" and giving an honest and professional service to its customers, which is why they carry out a thorough check on all new properties and their owners to ensure that they are not sucked in to unwittingly acting on behalf of potential fraudsters.
This working ethos has not just enabled the company to rent luxury Quinta do Lago villas but also to rent villas all over the world.
The properties that have caused controversy in these scams may exist but the fraudsters have no right to rent them out. Travellers are sent documents to convince them the booking is real before being asked to send a deposit of full payment, in an international bank transfer.
Holidaymakers only find out they have been duped when they the fraudster is no longer contactable. Or, in worst case scenarios, the holidaymakers arrive at their destination to find the property is either full or does not exist.
Detective superintendent Bob Wishart from the economic crime department said: "People get carried away with the thought of sun and sand and can end up becoming the victims of quite serious crime."
A professional rentals agency like Select Resorts will reduce scam risk and also ensure that properties are professionally managed during your stay.
Another advantage is if problems occur a professional lettings agency will be able to help put things right – for example if the person in the neighbouring villa decides on the Monday after a holidaymakers arrival that he wants to install a swimming pool a professional agency should be able to get you alternative accommodation.
The European Consumer Centre – a continent-wide trading standards organization – has seen a spate of villa-booking scams. Consumer adviser Laura Fergusson says: 'If it were a proper company that has not delivered on a purchase then this is something that can be dealt with. But if it is an outright scam then it is a criminal matter. Unfortunately, in most cases the money you have paid is lost.
How to protect yourself

Pay by credit card or Visa debit card
Seek references or reviews on independent websites
Ask lots of questions about the local area
Speak to the agent or homeowner
Check the email and phone numbers of any anyone you speak to with the details on the villa booking website
Pay as much as you can in cash, when you arrive
Take out booking insurance to cover fraud
Booking direct can be a money saver in Quinta do Lago, but as more and more people are finding out, it can sometimes be a false economy.
###