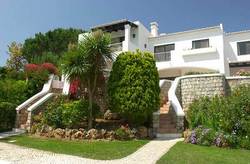 (PRWeb UK) September 2, 2010
A stay at the Four Seasons Quinta do Lago offers its guests more than just a holiday in 2011. Renowned for its world class attention to detail and luxurious accommodation, the resorts location in Portugal combines luxurious living with an extensive list of sporting and cultural opportunities to provide a get-away like no other.
Portugal has always been an idolised tourist destination. Thanks to a beautiful climate and an abundance of historical culture visitors of the nation are only too happy to land upon its shores time after time. Perhaps symbolic of the nation as a whole, the Algarve is a region of the country that has been at the heart of its revolution in tourism. With temperatures reaching up to 31 degrees and a vast array of historical sights, Portugal's most southern region has the power to both relax and intrigue its visitors.
But the region offers more than just a high thermometer reading. Home to the world class 'Quinta do Lago' resort, the Algarve offers its visitors a true taste of up-market luxury. Surrounded by 800 hectares of beautiful scenery, the resort takes pride in protecting the environment and allowing it to flourish. With an extensive diversity of marine life dotted along the coast line and a collection of exotic flora and fauna to appreciate, Quinta do Lago allows visitors to truly be at one with nature.
The resort is as diverse in nature as it is in accommodation. With a collection of villages and townhouses to stay in, the resort ensures the perfect stay for a party of any type or size. For example, visit the Four Seasons Country Club and guests can enjoy a stay in a luxurious one or two bedroom apartment complete with delicate furnishings and a charming terrace. Those in need of further space can opt for a duplex apartment and enjoy a whole host of modern facilities including a speedy Wi-Fi connection.
Prices in July 2011 start at £225 per night in the Four Seasons Country Club for a three bedroom duplex apartment through Four Seasons Country Clubs preferred travel partner Select Resorts.
Have a passion for golf? Situated within the Quinta do Lago region, the resort offers a golfing experience with a difference. With a variety of championship standard courses to tackle, the club will put even the seasoned golfer's skills to the test. Often hosting major tournaments such as the Portuguese open the courses have the authenticity to bring out the professional golfer in all.
The Four Seasons Country Club also boasts two squash courts and three outdoor tennis courts (with the latter complete with floodlights for evening play). Guests will also appreciate full access to a billiard and snooker room and a state of the art 5 a side football pitch. Approved by Fifa, the synthetic grass ensures easy running and enhanced ball control. Water sports, go-karting and horse-riding can also be found and enjoyed just outside of the clubs grounds. From golf to go-karting the club's location offers visitors the complete sporting solution.
The clubhouse also boasts a friendly restaurant and bar allowing guests to enjoy a delicious breakfast, lunch and dinner at any time of the day. From famous Portuguese specialities to food cherished from all around the world the restaurant provides its guests with only the finest of cuisine. Live music is also provided 5 nights a week.
A stay in the Algarve would not be complete without the experience of real Portuguese culture. On Wednesdays the Quarteira market is on and with souveneuirs, clothes, shoes and bags all being sold for bargain prices. The market also plays host to distinct variety of Portuguese food allowing visitors to get a taste for the nation's culture – literally.
###