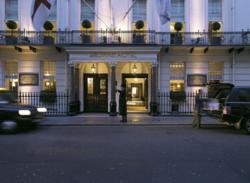 London, UK (PRWEB) September 19, 2012
Covering all the major fashion capitals of the world, one can guarantee that a trip with Quintessentially Travel will be utterly fabulous.
First down the Quintessentially Travel catwalk is Brown's Hotel, London. Similar to the British powerhouse brand, Burberry, Brown's Hotel celebrates iconic traditions and sophisticated and classic styles, much like the quintessentially British Burberry. Furthermore, it is ideally located within walking distance of the key shopping areas of Bond Street and Regent Street, ensuring that people's time is well spent shopping and not travelling. After a day of hitting the shops, head to the spa for the ultimate experience in pampering. With 117 luxurious suites to choose from, guests will be utterly spoilt for choice.
Oozing elegance and luxury, Hotel de Russie perfectly mirrors its Italian fashion counterpart, Prada. Located in the heart of Rome between the Spanish Steps and the Pizazza del Popolo, Hotel de Russie is just a stone's throw away from the Via Condotti and famous fashion houses. Mirroring the Italian fashion icon, each of the 122 rooms and suites perfectly blend traditional and contemporary design, with either exquisite city or garden views. To complete the Italian experience, the hotel's restaurant fuses traditional Roman dishes with international flavours. Blending the old with the new in an elegant and sophisticated manner, Hotel du Russie is the Prada of Italian hotels!
Boasting a stylish location in Union Square, close to Soho and Greenwich Village, the W New York is our US contender. Similar to the American fashion brand, Marc Jacobs, the W New York is chic and contemporary in design. Think old school charm, with a hip and savvy W touch. Choose from the 270 rooms and suites, all featuring the latest modern technology. Ensuring that you fit into that little black dress for that all important evening, the W New York boasts a fully equipped SWEAT Fitness Centre. Finally, to complete the look, accessorises! What better accessory than a man's best friend? At the W New York guests' faithful pooches are always more than welcome.
Revolutionising fashion, the inspirational French label Chanel, introduced new and exciting elements to the world of fashion. Drawing a parallel to the renowned Chanel brand, Hotel Le Bristol over the years has built its reputation as a prestigious property, offering luxury and elegance. In turn, it regularly attracts the fashion elite and celebrities. Located on the famous shopping area of rue du Faubourg Saint-Honor in Paris, Hotel Le Bristol offers 187 rooms and suites, each of which have been elegantly decorated with crystal chandeliers and antique furnishings. Furthermore, the hotel boasts a 3 Michelin Star Gastronomic Restaurant, providing mouth watering cuisine and the largest internal garden found in any Parisian luxury hotel.
For all media enquiries please contact Jenny Graham on E: Jenny(at)Quintessentiallytravel(dot)com / P: +44 (0)845 2246 915 ext 6678
About the Company:
Quintessentially Travel is a sister business of Quintessentially, the leading international luxury lifestyle company. Launched in 2000 as a small London based concierge service, Quintessentially (http://www.quintessentially.com) has experienced a complete transformation in a decade, and currently have offices in over 64 cities around the world. The service provided to their discerning and HNW members is proactive and personalised, catering to every member's need, from last minute restaurant bookings, travel arrangements, and access to private parties, as well as fulfilling every unusual request and successfully connecting businesses all over the world. Quintessentially can offer access to the inaccessible and can make the seemingly impossible, possible. In a bid to ensure only the very best service is delivered across the luxury market, Quintessentially has also launched 32 luxury sister businesses comprised of experts in every luxury division. This includes real estate, travel, luxury retail, wine, art, flowers, private aviation and more (http://www.quintessentiallygroup.com).