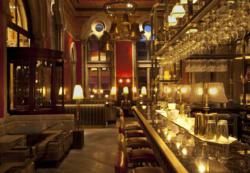 London, UK (PRWEB) March 12, 2012
This country thrives on its British delicacies, and therefore, what is better than reviving some that have been lost and will make history. Quintessentially name their top British restaurants for some top end home cooking.
Marcus Wareing has done the British palate proud at his latest restaurant, The Gilbert Scott. Described as a Beeton-esque menu (because face it, everyone loves Mrs. Beeton's British food), dining at The Gilbert Scott feels some homely with traditional dishes alongside a warm and friendly atmosphere. British dishes such as; homemade black pudding, London pride battered cod with mushy pea mayonnaise and chips and Sussex pond pudding will make mouths water just by reading the menu.
Nothing is more British than a Classic English Roast, and the restaurant, Roast, overlooking one of Britain's top food markets, Borough Market, nothing feels more at home. With meats from Yorkshire and Wales, fish from Scotland and cheese from Somerset, the quality of food cannot be faulted. "Roasts" are their main specialty, but that is no excuse to taste the other masterpieces of sage and onion scotch eggs and boiled bacon with parsley sauce.
Step aside for one of Britain's favourite chefs, Gary Rhodes, and Rhodes Twenty Four, a Michelin starred eyrie on the 24th floor of the NatWest Tower. Rhodes has a big part to play in The British Food Revival, and why not? For years Rhodes has taken British food and re-invented it, making it one's own. From Steamed mutton suet pudding to a warm date pudding with toffee sauce and sticky toffee ice cream, it is a place someone has to go at least once.
Mark Hix has made sure anyone who walks into the famous flagship restaurant in Soho has a British experience through and through, whether it is admiring the home-made produce on the menu to the Damien Hirst mobiles on the ceiling. Customers can enjoy roast red-legged partridge or jellied ham hock with piccalilli, as well as sitting down to crumpets and tea in the afternoon.
Dinner by Heston at the Mandarin Oriental Hyde Park
Who better to make British gastro history than Heston Blumenthal? From the famous 'meat fruit' dish through to the Georgian-era "tipsy cake" (buttery brioche soaked in boozy custard alongside chunks of fresh pineapple), someone's palate will be wowed beyond their wildest dreams at Blumenthal's new and upcoming eatery.
For all press enquiries regarding Quintessentially, please contact: Susannah Grant T: +44 (0) 203 073 6725 / E: susannah.grant@quintessentially.com
For information on booking tables at any of the above restaurants please contact: Keith Doyle T: +44 (0)203 073 6818 ext 6617 / E: keith.doyle@quintessentially.com
About the Company:
Quintessentially is the leading international luxury lifestyle company. Started in 2000 as a small London based concierge service, Quintessentially has experienced a complete transformation in a decade, and currently have offices in over 64 cities around the world. The service provided to their discerning and HNW members is proactive and personalised, catering to every member's need, from last minute restaurant bookings, travel arrangements, and access to private parties, as well as fulfilling every unusual request and successfully connecting businesses all over the world. Quintessentially can offer access to the inaccessible and can make the seemingly impossible, possible. In a bid to ensure only the very best service is delivered across the luxury market, Quintessentially has also launched 32 luxury sister businesses comprised of experts in every luxury division. This includes real estate, travel, luxury retail, wine, art, flowers, private aviation and more (http://www.quintessentiallygroup.com).