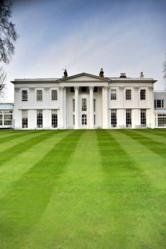 London, UK (PRWEB) July 27, 2011
Quintessentially Epicure is a two day luxurious gastronomic event taking place one of London's most exquisite venues, The Hurlingham Club.
September the 9th and 10th will see some of the world's most renowned chefs, top international gourmet produce and the very finest wines and spirits from across the globe brought together for two days of epicurean bliss.
The event will offer guests the chance to experience demonstrations and tastings from a selection of the world's best chefs, learn about global trends and innovations in food, beverage and cooking, sample the finest produce available (Caviar, Fois Gras, Spanish Hams and more), taste complimentary dishes from London's leading restaurants, experience the best wines, spirits and champagnes from around the globe and participate in talks from leading culinary experts.
Participating Chefs include: Marcus Wareing, Hélène Darroze, Brett Graham, Giorgio Locatelli, William Curley, Pierre Hermé, Shaun Hill, Phil Howard and Heinz Beck.
For further information please visit http://www.quintessentiallyepicure.com or contact Quintessentially Communications – christabel.mcconville(at)quintessentially(dot)com / 020 3073 6751
###