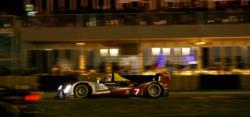 London, UK (PRWEB) March 26, 2012
For truly extraordinary experiences, from private track days with former F1 drivers to bespoke desert rallies, Quintessentially Escape list their tried and tested top 5 motorsport escapades.
Take to the track with double Le Mans winner and former Formula One driver, Allan Mcnish. Experience fill blown racing in the private atmosphere of Silverstone with specialist Audi branded equipment tailored to one's size. There is even the opportunity to have access to the British Racing Drivers Club for a gourmet lunch and taught off the track by the legendary Allan Mcnish and specialist race team. At the end of the day the person will receive a giveaway helmet signed by the Mcnish himself, golden branded helmet and footage of the day.
For the ultimate in car experiences and take off in a VW Golf and Porsche Carrera on frozen lakes in Sweden. Imagine this once-in-a-lifetime thrill of driving flat out on a frozen lake in the middle of Scandinavia – SIDEWAYS! There will be a team of experienced ice and snow driving instructors to guide one on the snow and ice, keeping control of the car. From arrival to departure one will receive first-class hospitality in a purpose designed lodge, with a restaurant offering exceptional dining with views over the valley and a menu offering both Swedish and local specialities such as Moose, Deer and Trout.
Arrive in Finland and be whisked north to a custom designed rally track on a frozen lake! This is home to 4 x Rally champion legend Tommi Mäkinen, where one will be given tuition by first hand by Tommi and learn the skills associated with becoming what many consider to be the most adrenaline fuelled of all motorsports.
Ultimate Track Days
Whether in the principal UK circuits and legendary overseas destinations such as; Le Mans, Spa Francorchamps and the infamous Nürburgring Nordschleife, Quintessentially Escape provide some exhilarating track days. The current instructor squad includes some of Europe's most respected and talented drivers some of whom will always be on hand to offer help and advice to anyone new to track driving and those looking to improve.
Alongside the stunning lakes and up into The Dolomites in Europe is only a fraction of what someone can see on the supercar tour in June 2012 with Quintessentially Escape. People will stay at some fantastic spa hotels, all members of The Leading Hotels of The World, starting on the West side of Austria and winding our way up to some of the great passes in The Alps. The tour then takes everyone to the shores of Lake Worthersee and take a well-earned day-off at the 5* castle hotel alongside the lake.
On the final day of the tour, people will get the chance to drive through the beautiful Austrian countryside and across to the newly opened Kempinski Hotel on the banks of the Danube in Bratislava. Everyone can enjoy some of Europe's finest Michelin Star meals along the way all in the company of the experienced Club GT Events crew. This year Quintessentially Escape is planning for a helicopter flight mid-week in The Dolomites and dinner on top of a mountain another. This is too good to miss out on.
For further information on these car experiences or other escapes visit http://www.quintessentiallyescape.com or contact Tim Wace on: tim@quintessentiallyescape.com / +44 (0)20 3073 6651
About the Company:
Quintessentially Escape is a sister business of Quintessentially, the leading international luxury lifestyle company. Launched in 2000 as a small London based concierge service, Quintessentially (http://www.quintessentially.com) has experienced a complete transformation in a decade, and currently have offices in over 64 cities around the world. The service provided to their discerning and HNW members is proactive and personalised, catering to every member's need, from last minute restaurant bookings, travel arrangements, and access to private parties, as well as fulfilling every unusual request and successfully connecting businesses all over the world. Quintessentially can offer access to the inaccessible and can make the seemingly impossible, possible. In a bid to ensure only the very best service is delivered across the luxury market, Quintessentially has also launched 32 luxury sister businesses comprised of experts in every luxury division. This includes real estate, travel, luxury retail, wine, art, flowers, private aviation and more (http://www.quintessentiallygroup.com).