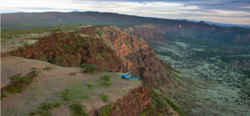 London, UK (PRWEB) June 15, 2012
Quintessentially Escape introduces their new "Escapes" just in time for the Summer and even the Wedding season.
Helicopter Safari
As if a safari in a jeep wasn't special enough, Quintessentially Escape can now allow someone to experience something even more unique, a Helicopter Safari with an incredible choice of destinations: Kenya, Uganda, Tanzania, Ethiopia and the Democratic Republic of Congo. This adventure also provides aerial photography, geo-surveying and mountain rescues. What a spectacular and unforgettable experience, this is definitely something for the adventurer in someone.
Tuscan Hillside Retreat
Feel like a relaxing trip? Then this Tuscan Retreat this is perfect. From being escorted in a luxury car to the private house, Borgo Santo Pietro the trip will have already started. The adventure starts with an Italian cookery lesson, and then during the day people have the freedom to relax by the pool or explore the beautiful surrounding countryside. Why not treat oneself to a lavish spa treatment in the delightful private spa and return home feeling better than ever!
Is one a food lover? Then this Michelin Food Safari is definitely something that needs to be discovered. Each gourmet event has been designed to give someone a unique dining experience in a selection of London's most stunning venues, prestigious bars and luxurious restaurants, giving someone the chance to visit three venues in one night. A guaranteed love affair will happen when it comes to food.
Want that best friend to have an unforgettable night that they will never forget? Then let Quintessentially Escape organise it. Las Vegas is the place to be when it comes to stag dos and has everything to offer. The extravagant hotel, deluxe suites with amazing views and luxurious pool parties, VIP tables and Cabanas with champagne, Liquors and Cocktails will guarantee anyone will have an amazing last experience as a singleton.
Dan Roberts VIP Boot Camp
Launched in June 2012, this one-week fitness experience will make sure that anyone is prepared for that bikini on holiday, photo-shoot or a wedding dress. With the choice of destinations between St. Tropez and Marrakech one can take part in a daily workout routine, which Dan Roberts has especially designed. Want to get fit in a short amount of time? This VIP Boot Camp will do the job.
For further information on these new experiences or other escapes visit the website or contact Tim Wace on: tim@quintessentiallyescape.com / +44 (0)20 3073 6651
About the Company:
Quintessentially Escape is a sister business of Quintessentially, the leading international luxury lifestyle company. Launched in 2000 as a small London based concierge service, Quintessentially (http://www.quintessentially.com) has experienced a complete transformation in a decade, and currently have offices in over 64 cities around the world. The service provided to their discerning and HNW members is proactive and personalised, catering to every member's need, from last minute restaurant bookings, travel arrangements, and access to private parties, as well as fulfilling every unusual request and successfully connecting businesses all over the world. Quintessentially can offer access to the inaccessible and can make the seemingly impossible, possible. In a bid to ensure only the very best service is delivered across the luxury market, Quintessentially has also launched 32 luxury sister businesses comprised of experts in every luxury division. This includes real estate, travel, luxury retail, wine, art, flowers, private aviation and more (http://www.quintessentiallygroup.com).