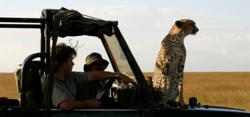 London, UK (PRWEB) January 23, 2012
Quintessentially Escape can transport one to the jungles of Rwanada or the fertile rich Okavanga Delta in Botswana to experience the true wilderness left on the planet. Here they share their ideas on the top 5 safari adventures out there.
With endless savannahs, thick bush country, and lakes that stretch as far as the eye can see, why not combine a private luxury safari in pursuit of 'The Big five' with a few days spent relaxing on a private island? This original safari country is perfect if someone is looking for a romantic escape, or simply an adventure of a lifetime. The team are here to make sure this escape runs to absolute perfection.
For a once in a lifetime expedition team up with wildlife specialist and National Geographic Adventurer, Hayden Turner. Go in search of rare tribes and rare wildlife deep into a Cameroon rainforest, to the edge of the Kalahari and up river into the wilds of Malaysia. Become a "Hunter of the Lost World" and touch the wild on a real expedition.
Described by Quintessentially Escape as "an experience like no other" one can admire the rich variety of wildlife that each of these fantastic destinations is home to and keep an eye out for magnificent Tigers to rare Asiatic lions of Sasan Gir and the horned rhinos of Kaziranga to the beautiful Indian elephants. A visit here will give someone an overall experience of nature in its true form and glory.
Using little bush planes Quintessentially Escape can take someone on incredible day tours into the furthest reaches of the National Park; stopping to land on glaciers, mountain tops and gravel river bars. Enjoy the all that the wilderness has to offer with hiking and exploring, wildlife viewing and rafting.
Reindeer Herding On The Finnmark Plateau
Join the family for an unforgettable wilderness trip over the Finnmark plateau, experiencing life with a local herding family on their annual journey from the Finnmark Plateau moving hundreds of reindeer to the summer grazing area. This Escape is an incredible adventure and a rare privilege to experience the ancient culture of the nomadic Sami. Want to experience something completely unique? Well this is it, a once in a lifetime Escape bringing one closer to nature and nomadic traditions.
For further information on safari adventures or other escapes visit http://www.quintessentiallyescape.com or contact Tim Wace on: tim(at)quintessentiallyescape(dot)com / +44 (0)20 3073 6651
About the Company:
Quintessentially Escape is a sister business of Quintessentially, the leading international luxury lifestyle company. Launched in 2000 as a small London based concierge service, Quintessentially (http://www.quintessentially.com) has experienced a complete transformation in a decade, and currently have offices in over 64 cities around the world. The service provided to their discerning and HNW members is proactive and personalised, catering to every member's need, from last minute restaurant bookings, travel arrangements, and access to private parties, as well as fulfilling every unusual request and successfully connecting businesses all over the world. Quintessentially can offer access to the inaccessible and can make the seemingly impossible, possible. In a bid to ensure only the very best service is delivered across the luxury market, Quintessentially has also launched 32 luxury sister businesses comprised of experts in every luxury division. This includes real estate, travel, luxury retail, wine, art, flowers, private aviation and more (http://www.quintessentiallygroup.com).
###