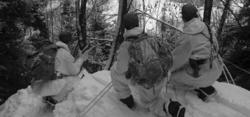 London, UK (PRWEB) December 01, 2011
Interested in an adventure full of espionage and excitement, Quintessentially Escape will guide someone through the process of how relationships with agents are managed and how agents operate in the field.
Mission 1: Heroes of Telemark
An experience that dates back to the 1940s, saw teams of Norwegian Commandos challenge themselves by parachuting over the Hardanger mountains before skiing across tough terrain. With rough winter conditions and dodging German guards, this was surely an experience that tested one's mental and physical strength.
Quintessentially Escape will take those who want to test their mental and physical strength on a mission very much like this. After an evening meal and the presentation of the program, guests will receive their equipment for the mission, prepared for the adventure of a lifetime the next day.
Mission 2: Carte Blanche
This mission begins in the comfort of home, where a package will be received with a brief providing detail of targets, objectives and the means to achieve these. A telephone call from the mobile inside the package will then direct that person to the designated meeting point where the intensive training begins. Yes – it is a real James Bond experience!]
Carte Blanche is truly a once in a lifetime experience! It may sound daunting and a lot of hard work, but it is incredibly rewarding and enjoyable.
Mission 3: Escape and Evasion
Ever wondered what would happen if a carjacking took place? Escape & Evasion will teach someone new driving skills to deal with that worst- case scenario. This experience will have people place themselves in the scenario of a close protection officer where escorting VIPs is the main priority.
This could also be a mission to train someone who is considering close protection as a career. If this is the case and the mission is a success, why not contact Quintessentially People, a recruitment agency for high net worth individuals, who maybe looking for some extra protection in their lives.
For further information on the Spy Mission Experiences or other Adventure Journeys visit http://www.quintessentiallyescape.com or contact enquiries(at)quintessentiallyescape(dot)com / +44 (0)845 224 2506
About the Company:
Quintessentially Escape is a sister business of Quintessentially, the leading international luxury lifestyle company. Launched in 2000 as a small London based concierge service, Quintessentially (http://www.quintessentially.com) has experienced a complete transformation in a decade, and currently have offices in over 64 cities around the world. The service provided to their discerning and HNW members is proactive and personalised, catering to every member's need, from last minute restaurant bookings, travel arrangements, and access to private parties, as well as fulfilling every unusual request and successfully connecting businesses all over the world. Quintessentially can offer access to the inaccessible and can make the seemingly impossible, possible. In a bid to ensure only the very best service is delivered across the luxury market, Quintessentially has also launched 32 luxury sister businesses comprised of experts in every luxury division. This includes real estate, travel, luxury retail, wine, art, flowers, private aviation and more (http://www.quintessentiallygroup.com).
# # #