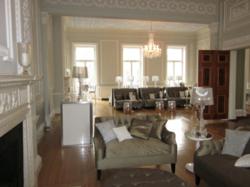 "Our requests are increasing for heady all-day banquets of goose, sweetmeats, gourmet mincemeat tartines and silly amounts of wine"

The Cellar Society
London, UK (PRWEB) July 27, 2011
Gird your loins. Though we are still Hunter-deep in proverbial British summertime, here at Quintessentially Events, party planners to the stars, we are rapidly descending into the full swoon of the party season. Here, we reveal what trends we think will make your winter event sparkle with style, impact and character.
This year has been marked by a hotter, darker and naughtier version of all that has gone before, from the reawakening of glamour in all of its seventies disco exuberance to the return of witty, techno spin gourmet creations as dinner party staples. Equally, it has augured a time of brightness, fun and spirit - rarely have we noticed that particularly English sense of enchantment and romance so embraced when working on parties both great and small. What started with a Royal Wedding like no other has spilled over into modern, gritty follies at The Box, trippy fairytale revisions at Kensington Palace and most of all, the romping stomping of folkloreish fantasy.
Pour an Absinthe Louche – what they think will be this year's top tipple – as they guide readers through the top three trends, with more to come next month…
1. THE LOST ART OF KEEPING A SECRET
Intimacy and the secret have been the watchwords of social events for the past few months. Sharing a more humble affair with just those you actually like for a sit-down dinner, or opting for an exclusive, surreptitious house pop-up (we're talking taking over a beautiful pile such as Bayfield Hall in Norfolk, and treating it like your own) is this season's answer to an old fashioned - but so right for now - Mitford Girls-esque get-together. Keeping a party personal lets you mix, influence and network without any of the proverbial profile-raising brand stuffing.
And, as a guest, there's nothing better than the feeling that you've have been hand-picked as part of a group of stars. Witness Catherine and William's BAFTA starlet gala, or Poppy Delevingne et al (as pictured) hosting discreet soirees for their acquaintances. Invite city friends to a bucolic idyll roaring with cherry wood fires, or choose a Georgian city mansion such as Quintessentially's own 29 Portland Place for a beautiful blend of society character fixtures, sparkly new friends, fashion setters and everyone that makes you glad to be alive: such is the point of Christmas after all.
2. GOLDEN YEARS
Proper balls, iced champagne, and a dangerous kind of radiant beauty: what started with a renaissance of floor-sweeping dress for any occasion has spilled over into full golden era evocation. Now you'll need not only a silver-screen-worthy sequin encrusted dress from Miu Miu or a silken Jean Harlow style YSL number, but also a veiled wreath - think Anna Dello Russo at Natalia Vodianova's Love Ball - and a swathe of heirloom diamonds from Van Cleef & Arpels Bals de Legende sparkling about your neck.
Chaps should try hair swept back a la Vladimir Restoin Roitfeld and a pair of Jimmy Choo new men's shoes. Watch that you hold the stem of your cocktail glass, sipping slowly whilst maintaining a smile (this year's nicest revival). The white-hot trend doesn't have sartorial boundaries either: echo the trend in your venue with plush velvets, gilding, sculptural drinks stations, and muted amber lighting that gives guests that incandescent glow.
3. THE RETURN OF THE FEAST
Food has been taking a trip back to its Merrie England epicurean heritage throughout the year, hitting upon the lost art of feasting right on time for Christmas. Less Henry VIII, more handsome and refined, this is playful take on the drama and opulence of feasting.
Rather than direct riffs on antique gourmandises, these foods are modern translations of classics, empathising with the local, rare and artisan zeitgeist. Even in the period of relative austerity, making the most of traditional celebrations in Victorian lavish style, with tables heaving under the spoils of the season - is a big party trend for 2011, according to Will at The Cellar Society, caterer to the fashion world.
"Our requests are increasing for heady all-day banquets of goose, sweetmeats, gourmet mincemeat tartines and silly amounts of wine." The food playing at roguish trickery in among the Poilâne bread, truffled Foie Gras and Quince is epitomised by this year's star dishes: Mrs Beaton's Snow Eggs with Everton Toffee at The Gilbert Scott, and Heston Blumenthal's 'Meat Fruit' conceits at Dinner. We also love Lily Vanilli's crusade for Great British Puddings in miniature form, with seasonal berry laced Bakewell tarts with almond frangipane – a tart with a bleeding berry heart, if you will.
For Press Information and more creative ideas tailored especially for your publication, contact Sophie.Day(at)quintessentiallyevents(dot)com.
ABOUT THE COMPANY
Quintessentially Events is a world-class event management company established by Anabel Fielding and Caroline Hurley, dedicated to delivering exceptional events around the world. Quintessentially Events have been behind some of the world's most exclusive and high profile events. Clients include: ELLE Style Awards, The Serpentine Gallery, Victoria Beckham, The V&A - The V&A Golden Age of Couture Gala, Vogue, Gucci, YSL, Hugo Boss, IKEA, Phillips De Pury, Grosvenor Estates, Dasha Zhukova and the award winning gala, The Diner des Tsars.
Get the full party planners to the stars service by contacting Quintessentially Events direct…
29 Portland Place, London W1B 1QB Tel: 0845 475 8408 Email: info(at)quintessentiallyevents(dot)com
http://www.quintessentiallyevents.com.
###