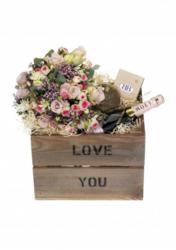 London, UK (PRWEB) March 12, 2012
Quintessentially Flowers provide a sneak preview into some beautiful bouquets from their Mother's Day Collection to make their mothers melt.
Hyacinth and Tulip Bouquet – GBP 54.95
Pick up this gorgeous scented bouquet of seasonal tulips and scented hyacinth. Tulips are the one flower that there is a surge in demand for on Mother's Day, so the best thing to do is get in early and order a bouquet such as this that is popular and bursting with colour. The meaning of tulips is generally perfect love, so buy the perfect bouquet!
English Country Bouquet – GBP 64.95
Mother's Day falls in spring, so what is more flawless than a gorgeous bouquet filled with spring flowers? This English Country bouquet is full of brilliant white and deep blue flowers combined with English garden foliage.
Available in light pink, magenta and white, the four stemmed orchid can be a great alternative to a bouquet – and obviously will last longer! This orchid will also come in a stylish black cube vase, ready for mum to put around the house. Orchids are a long-lasting and particularly elegant type of flower, making them the perfect gift for many occasions.
Why not go all out for Mother's Day? After all a mother does everything for someone for at least 18 years of their life – unless they decide otherwise! This Sherbet Box comes with a Sherbet bouquet full of Miss Piggy Roses, Pink Spray Roses, Pink Ranunculus, Orange Ranunculus and Lime Green Hypericum as well as a mini bottle of Moet & Chandon Pink Champagne, Bake Boutique Vanilla Cupcake with Sprinkles Candle and Charbonnel et Walker Chocolate Truffles.
What about the Meadow Love Box? This includes a pastel coloured seasonal bouquet, delicious Charbonnel et Walker Chocolate Truffles, a Bake Boutique Chocolate Honey Brownie Candle and 70cl bottle of Moet & Chandon Pink Champagne.
Visit Quintessentially Flowers to order online or for specialist advice call + 44 (0) 845 224 3574
For all media enquiries please contact Michelle Stamp on E: michelle(at)quintessentiallyflowers(dot)com / P: +44 (0)20 3070 6780
About the Company:
Quintessentially Flowers is a sister business of Quintessentially, the leading international luxury lifestyle company. Launched in 2000 as a small London based concierge service, Quintessentially (http://www.quintessentially.com) has experienced a complete transformation in a decade, and currently have offices in over 64 cities around the world. The service provided to their discerning and HNW members is proactive and personalised, catering to every member's need, from last minute restaurant bookings, travel arrangements, and access to private parties, as well as fulfilling every unusual request and successfully connecting businesses all over the world. Quintessentially can offer access to the inaccessible and can make the seemingly impossible, possible. In a bid to ensure only the very best service is delivered across the luxury market, Quintessentially has also launched 32 luxury sister businesses comprised of experts in every luxury division. This includes real estate, travel, luxury retail, wine, art, flowers, private aviation and more (http://www.quintessentiallygroup.com).