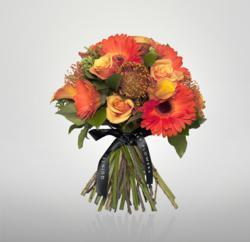 London, UK (PRWEB) May 22, 2012
Quintessentially Flowers names their top-selling bouquets from their new collection suitable for any event.
Cherry Brandy –GBP 40
Summer is the time when a garden is filled with beautiful plants and colours, so maybe someone wants the same effect indoors. This colourful bouquet will light up any space, consisting of typical summer flowers: Cherry Brandy Roses, Orange Pincushions, Orange Calla Lilies and Orange Gerberas.
Oriental Lily – GBP 40
Not particularly fond of colours? The Oriental Lily bouquet is the perfect choice. A classic bouquet of white roses and Oriental lilies means there is no way of going wrong – very simple but elegant.
Sunshine – GBP 40
Want something unusual? Then this bouquet is faultless! The unique combination of bright Sunflowers, Yellow Roses and Viburnum make this bouquet very special and lively.
The Signature– GBP 65
The name says it all; this is the exclusive Signature bouquet of Quintessentially. The vast mixture of different flowers makes it an exceptionally striking sight and is that perfect decoration to complete someone's home.
A Dozen Red Roses – GBP 75
Who doesn't melt when receiving a beautiful bouquet of Red Roses? There is no flower that has been celebrated more than the Red Rose. Traditionally the symbol for love and romance it is the perfect bouquet to give that person that is appreciated the most.
For all press enquiries regarding Quintessentially Flowers, please contact: Alex Allason T: +44 (0) 203 073 6752 / E: Alex.allason(at)quintessentially(dot)com
About the Company:
Quintessentially Flowers is part of the Quintessentially Group, the leading international luxury lifestyle company. Started in 2000 as a small London based concierge service, Quintessentially has experienced a complete transformation in a decade, and currently have offices in over 64 cities around the world. The service provided to their discerning and HNW members is proactive and personalised, catering to every member's need, from last minute restaurant bookings, travel arrangements, and access to private parties, as well as fulfilling every unusual request and successfully connecting businesses all over the world. Quintessentially can offer access to the inaccessible and can make the seemingly impossible, possible. In a bid to ensure only the very best service is delivered across the luxury market, Quintessentially has also launched 32 luxury sister businesses comprised of experts in every luxury division. This includes real estate, travel, luxury retail, wine, art, flowers, private aviation and more (http://www.quintessentiallygroup.com).