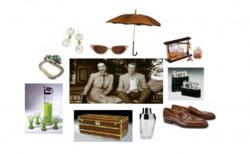 London, UK (PRWEB) November 10, 2011
Following Sunday's première of Madonna's directorial debut W.E. – a film tracing the infamous life and times of The Duke and Duchess of Windsor – Quintessentially Gifts are celebrating all things Thirties. Flash back to 'martini hour' cocktail parties with a vintage Hermès umbrella, a pair of Verdura diamond drop earrings, Louis Vuitton's vintage shoe trunk, a David Linley cocktail shaker and a pair of bespoke Richard James crocodile loafers. Paint your nails in a reverse moon away from the cuticle and swathe yourself in Prince of Wales checks and Cartier panther brooches.
Dripping in jewels and Schiaparelli, The Duchess of Windsor added glamour and glitz to a time suffocated by depression and war. Despite the constitutional crisis and the international divorce scandal that will forever blacken her name, the infamous Mrs. Simpson remains a style icon in fashion circles, and is beautifully brought back to life in the film by superstar stylist Arianne Philllips - costume designer behind Walk The Line and Tom Ford's A Single Man.
Quintessentially Gifts recently announced the launch of the company's new luxury e-commerce website - dedicated to hand-picking the world's finest and most exquisite designer pieces for customers looking for a truly unique offering - and have collated a selection of Thirties inspired looks that go hand in hand with the January release
Verdura Byzantine White Topaz Earclips, Harry Fane, £7,800
No.9 Sunglasses, Hyde's Spectacles, £215
1970′s Umbrella with Crocodile Handle, Vintage Hermès, £850
Whisky Decanter Set, Katharine Pooley, £1,250
Crocodile Lighters, Vintage Dunhill, £5,400
Bespoke Crocodile Loafers, Richard James, £POA
Cocktail Shaker, Katharine Pooley, £579
Shoe Trunk, Vintage Louis Vuitton, £39,000
Vintage Cocktail Shaker and Six Glasses, Pullman Gallery, £3,240
Medusa's Hair Snake Ring, Tomasz Donocik, £POA
For all of Quintessentially Gifts' latest loves and international designer finds, follow the new Quintessentially Gifts blog: http://blog.quintessentiallygifts.com/.
Visit Quintessentially Gifts to order online or for specialist advice call + 44 (0) 845 224 2617
For all media enquiries please contact Alex Allason on alex.allason(at)quintessentiallycommunications(dot)com / P: +44 (0) 20 3073 6752
About the Company
Quintessentially Gifts, specialists in luxury and bespoke gifts, is part of the Quintessentially Group. Quintessentially Gifts has offices in London, Oslo and Geneva. Quintessentially is a private members club with a global concierge service. Available 24 hours a day, 365 days a year, our expert fixers are always on hand to aid and assist our members – whether it be sourcing tickets to much anticipated sporting events, providing access to the hottest gigs in town, securing last minute hotel bookings and travel deals, or simply making restaurant reservations. What's more, a Quintessentially membership provides unlimited access to an unrivalled package of privileges, preferential rates and bespoke services - therefore not only saving our members time, but also money. In recent years, Quintessentially has undergone a rapid expansion - from the original concierge concept - into a global luxury lifestyle group, with a portfolio of businesses encompassing property, events, wine and art consultancy. With 65 offices worldwide and further plans for Amsterdam, Auckland, Chicago, Kuala Lumpur, Luxembourg and more this year, Quintessentially has quickly become a global support system for its members, wherever they may be.
# # #