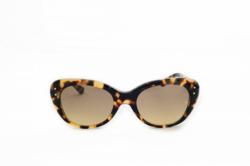 London, UK (PRWEB) March 26, 2012
Quintessentially Gifts name their top five 60s inspired gifts that will take them back in time to an era of style and class.
Oliver Goldsmith Sophia Sunglasses – GBP 275
Want to look like Betty Draper? Oliver Goldsmith, the father of fashion eyewear has released the Icon's Collection, a selection of twenty of the most definitive and identifiable styles from the Goldsmith archive.
These particular sunglasses, the Sophia sunglasses, and ready for the summer, were designed in 1958 and named after Sophia Loren but became synonymous with Grace Kelly who wore them throughout the early sixties. So whether someone wants to emulate the seduction of Sophia or the class of Grace, they are in stylish company.
This item is currently sold out due to demand. Please allow 3-4 weeks for delivery.
Vintage Lanvin 1960s Red and White Striped Silk Scarf – GBP 240
For a classic scarf to wear either round the neck or over the hair, this 1960s Lanvin silk scarf sourced by London's premier vintage dealer is the perfect choice. The scarf is printed with a geometric red, navy and white striped star pattern with white piping running along the edge. The Lanvin logo is printed in large lettering in one corner.
Vintage Louis Vuitton Présidente Briefcases - GBP 5,400
Nothing is better than taking a "Louis" on holiday. The Présidente briefcase was introduced to the Louis Vuitton line in 1956. The top model in the image is circa 1960s and the lower is circa 2002. Both are in excellent original condition and come with a soft dust bag. They also both have their original keys and luggage labels.
Both briefcases can be purchased for £10,800.
Vintage Lanvin 1960s Gold Paper Chain Necklace – GBP 780
For the perfect touch to any day or evening outfit, this modern 1960s gold paper chain necklace by Lanvin has been sourced by London's premier vintage dealer Atelier-Mayer. The necklace has chunky gold plated ovals woven into a chain, creating a paper chain effect. It fastens at the back of the neck with a T-bar. The necklace is in near-mint condition and is signed.
Size: 40 cm (length)
C hris Beetles Fine Photographs Brian Duffy: Jean Shrimpton, Early 1960s - GBP 1,600
Exhibited: Duffy, October - November 2009, No 23
Signed and stamped with embossed archive stamp below mount.
Archive ink stamp and numbered on reverse.
Digital Fibre Print, Printed 2011
14 X 14 inches
From an edition of Fifty.
For all of Quintessentially Gifts' latest loves and international designer finds, follow the new Quintessentially Gifts blog: http://blog.quintessentiallygifts.com/.
Visit Quintessentially Gifts to order online or for specialist advice call + 44 (0) 845 224 2617
For all media enquiries please contact Alex Allason on E: alex.allason(at)Quintessentially(dot)com / P: +44 (0)203 073 6752
About the Company:
Quintessentially Gifts, specialists in luxury and bespoke gifts, is part of the Quintessentially Group. Quintessentially Gifts has offices in London, Oslo and Geneva. Quintessentially is a private members club with a global concierge service. Available 24 hours a day, 365 days a year, our expert fixers are always on hand to aid and assist our members – whether it be sourcing tickets to much anticipated sporting events, providing access to the hottest gigs in town, securing last minute hotel bookings and travel deals, or simply making restaurant reservations. What's more, a Quintessentially membership provides unlimited access to an unrivalled package of privileges, preferential rates and bespoke services - therefore not only saving our members time, but also money. In recent years, Quintessentially has undergone a rapid expansion - from the original concierge concept - into a global luxury lifestyle group, with a portfolio of businesses encompassing property, events, wine and art consultancy. With 65 offices worldwide and further plans for Amsterdam, Auckland, Chicago, Kuala Lumpur, Luxembourg and more this year, Quintessentially has quickly become a global support system for its members, wherever they may be.