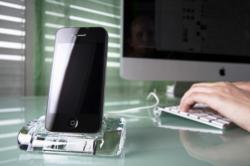 London, UK (PRWEB) January 26, 2012
There is a 12-year-old inside every man, especially those who remember the satisfaction to be had from zooming miniature cars around tabletops. Quintessentially Gifts discuss the top gadgets they love at the moment.
Like Music? G et the Calypso Crystal Aurora Crystal Dock – GBP 279
Everyone loves listening to music, whether at home, work or on the run, so for a man they would go weak at the knees for the most precious and fabulous of all iPhone docking systems, the crystal glass Aurora Glass. This beautiful dock is designed snugly to fit an iPhone 4, 3GS and 3G, as well as iPhone 2G and iPod Touch.
Calypso Crystal also offers a bespoke service to customise the Crystal Dock with engraved logos or initials, making the Aurora the perfect personal or corporate gift.
Like Gadgets? Get the Mark/Giusti Black and White Cosmati IPad Cover – GBP 300
Get an IPad and then get the stylish Mark Giusti IPad Cover (which is available in various colours). Apart from being a stylish way to protect an iPad 2, this cover also doubles as a stand, making it easier to watch films or browse the internet. It is also specially designed for items the cosmopolitan man requires every day – making it perfect for both work and play.
Like Socialising? Get the Airdiem Disco Pipe by Hicham Lalou – GBP 350
With a shisha pipe in one hand and a drink in the other, one can truly say they are socialising in style. Collaborating with renowned artists and industrial designers, Airdiem's narghiles transcend functionality into decorative design pieces.
Moroccan-French design leader Hicham Lahlou's organically shaped disco pipe offers a truly modern and minimalist take on the traditional shisha pipe.
The pipe is available in various colours: Red, Black, White, Grey, Turquoise and Purple.
Like Sport? Get the McQueen Luxury GTX Limited Jet-Ski – GBP 24,180
When it comes to sports the best sort comes in the form of watersports. Get the adrenaline pumping and buy the most exclusive of all power Jet-Skis on the market. With a 260 horse power engine, this deluxe water toy is an explosive adrenalin ride, balanced by suspension that provides the smoothest ride on the market.
Expect a lead time of approximately one week.
Like Games? Get the Nottage Design G4 Pool Table – GBP 36,000
Every guy likes to get together with a group of friends and spend their time drinking and playing pool, so invest in a striking pool table. The Nottage Design G4 pool table blends ultra-modern, minimalist styling with the state of the art technology. The table is hard wearing and allows spin to be applied, retaining consistent roll characteristics over its lifetime. It is hard wearing and allows spin to be applied and retains consistent roll characteristics over its lifetime.
This table also has the fabulous functionality of converting into a glass topped dining table with a three-piece cover or a state of the art tennis table.
For all of Quintessentially Gifts' latest loves and international designer finds, follow the new Quintessentially Gifts blog: http://blog.quintessentiallygifts.com/.
Visit http://www.quintessentiallygifts.com to order online or for specialist advice call + 44 (0) 845 224 2617
For all media enquiries please contact Katrina Israel on E: Katrina(at)quintessentiallygifts(dot)com / P: +44 (0)845 224 2617 ext 6668
About the Company:
Quintessentially Gifts, specialists in luxury and bespoke gifts, is part of the Quintessentially Group. Quintessentially Gifts has offices in London, Oslo and Geneva. Quintessentially is a private members club with a global concierge service. Available 24 hours a day, 365 days a year, our expert fixers are always on hand to aid and assist our members – whether it be sourcing tickets to much anticipated sporting events, providing access to the hottest gigs in town, securing last minute hotel bookings and travel deals, or simply making restaurant reservations. What's more, a Quintessentially membership provides unlimited access to an unrivalled package of privileges, preferential rates and bespoke services - therefore not only saving our members time, but also money. In recent years, Quintessentially has undergone a rapid expansion - from the original concierge concept - into a global luxury lifestyle group, with a portfolio of businesses encompassing property, events, wine and art consultancy. With 65 offices worldwide and further plans for Amsterdam, Auckland, Chicago, Kuala Lumpur, Luxembourg and more this year, Quintessentially has quickly become a global support system for its members, wherever they may be.
# # #