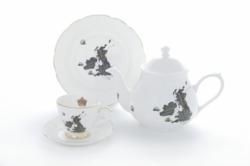 London, UK (PRWEB) April 17, 2012
The Queen's Diamond Jubilee is right around the corner, and the Olympics is rapidly approaching the start line, so what better time to get into the spirit and indulge in some of the best designers Britain has to offer? Quintessentially Gifts lists the top 5 must-haves from British Designers.
From David Linley and Williams British Handmade to Penhaligon's, Quintessentially Gifts stay loyal to their Quintessentially British status with products from some classic British brands.
Ali Miller
1. Hampstead Heath Cake Plate, £30.
2. Always an Adventure Tea Cup & Saucer, £30.
3. Home Sweet Home UK Map Tea Set – as used by Sherlock Holmes himself in the BBC adaptation, £165.
David Linley
1. Jackson Cigar Ashtray, £350.
2. Wooden Height Chart, £1,300.
3. Union Flag Humidor, £1,995.
Globe-trotter
1. Candy Suitcase Collection, from £410
2. 21" Centenary Safari Trolley Case in Ivory & Natural, £820.
3. 30" Centenary Cruise Suit Case with Wheels, £1,015.
Penhaligon's
1. Uplift Her Lily Of The Valley Gift Set, £143.
2. Indulge Her Lavandula Gift Set, £232
3. Neroli Tea Candle, £87.
Williams British Handmade
1. Vera Case, £735.
2. Gwen Doctors Bag - £960.
3. Corner Suitcase, £3,200
For all of Quintessentially Gifts' latest loves and international designer finds, follow the new Quintessentially Gifts blog: http://blog.quintessentiallygifts.com/.
Visit Quintessentially Gifts to order online or for specialist advice call + 44 (0) 845 224 2617
For all media enquiries please contact Alex Allason on E: alex(dot)allason(at)Quintessentially(dot)com / P: +44 (0)203 073 6752
About the Company:
Quintessentially Gifts, specialists in luxury and bespoke gifts, is part of the Quintessentially Group. Quintessentially Gifts has offices in London, Oslo and Geneva. Quintessentially is a private members club with a global concierge service. Available 24 hours a day, 365 days a year, our expert fixers are always on hand to aid and assist our members – whether it be sourcing tickets to much anticipated sporting events, providing access to the hottest gigs in town, securing last minute hotel bookings and travel deals, or simply making restaurant reservations. What's more, a Quintessentially membership provides unlimited access to an unrivalled package of privileges, preferential rates and bespoke services - therefore not only saving our members time, but also money. In recent years, Quintessentially has undergone a rapid expansion - from the original concierge concept - into a global luxury lifestyle group, with a portfolio of businesses encompassing property, events, wine and art consultancy. With 65 offices worldwide and further plans for Amsterdam, Auckland, Chicago, Kuala Lumpur, Luxembourg and more this year, Quintessentially has quickly become a global support system for its members, wherever they may be.