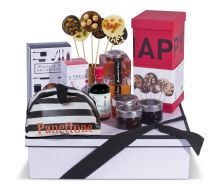 London, UK (PRWEB) November 17, 2011
Wicker baskets and boxes filled with various delicacies are always exciting whether it is a child popping their way through the bubble wrap or an adult smiling at the thought of that champagne that will be consumed on Christmas Day. Quintessentially Gifts have an amazing selection of hampers to please you this Christmas.
Oliveology: The Quintessentialist Hamper - GBP 100
This holiday season Oliveology has put together a hamper full of Greek artisan luxury to share with all the family. For all Greek food lovers the hamper is full of a beautiful selection of olive oils, perfect for cooking or sharing with bread, alongside soft Greek honey and olive leaf tea.
Daylesford Organic Christmas Celebration Hamper – GBP 160
A real treat this Christmas time comes from Daylesford Organic Foods, straight from their farm in the Cotswold's. Discover their award winning mature cheddar cheese, blue cheese and heart shaped Penyston cheese, perfect alongside a beautiful red onion and apple chutney and fennel and poppy seed crackers, and for dessert, their home-made organic mince pies.
This hamper will be available in the UK from December 2nd 2011.
Morandini De Castro Italian Dream Hamper – GBP 175
Fancy living the Italian dream this Christmas? The hampers that come straight from Morandini de Castro are just that, understated Italian luxury. Within the hamper the person will escape to a world of fine cuisine from the Sicilian Blood Orange Marmalade with Rum to spread on toast Christmas morning, to the Happy Package or chocolate lollipops and Patisserie panettone with dark chocolate chips that can be enjoyed by adults and children after lunch.
Hampers can also be made bespoke – please enquire
Daylesford Organic Christmas Feast Hamper– GBP 250
Go the extra mile with Daylesford and purchase a Christmas Feast packed full of Christmas favourites, including Christmas cake, mince pies and pudding, as well as award-winning cheeses, succulent ham and complementary chutneys and sauces to enjoy beyond Christmas day.
This hamper will be available in the UK from December 2nd 2011.
Katharine Pooley Leather Picnic Hamper – GBP 4,550
This Christmas take that special someone on a date this Christmas with this beautiful leather hamper. It is capable of holding enough food for two, so filling it with beautiful delicacies and wine is a must. With exquisite detailing, including leather corners and stylish handles, everything slots into the leather strap holders within.
For all of Quintessentially Gifts' latest loves and international designer finds, follow the new Quintessentially Gifts blog: http://blog.quintessentiallygifts.com/.
Visit Quintessentially Gifts to order online or for specialist advice call + 44 (0) 845 224 2617
For all media enquiries please contact Alex Allason on alex(dot)allason(at)quintessentiallycommunications(dot)com / P: +44 (0) 20 3073 6752
About the Company:
Quintessentially Gifts, specialists in luxury and bespoke gifts, is part of the Quintessentially Group. Quintessentially Gifts has offices in London, Oslo and Geneva. Quintessentially is a private members club with a global concierge service. Available 24 hours a day, 365 days a year, our expert fixers are always on hand to aid and assist our members – whether it be sourcing tickets to much anticipated sporting events, providing access to the hottest gigs in town, securing last minute hotel bookings and travel deals, or simply making restaurant reservations. What's more, a Quintessentially membership provides unlimited access to an unrivalled package of privileges, preferential rates and bespoke services - therefore not only saving our members time, but also money. In recent years, Quintessentially has undergone a rapid expansion - from the original concierge concept - into a global luxury lifestyle group, with a portfolio of businesses encompassing property, events, wine and art consultancy. With 65 offices worldwide and further plans for Amsterdam, Auckland, Chicago, Kuala Lumpur, Luxembourg and more this year, Quintessentially has quickly become a global support system for its members, wherever they may be.
###